Post-pandemic international student recruitment trends: a closer look at student demand data
Last updated on Tuesday 20 Dec 2022 at 10:25pm
​The Covid-19 pandemic has forced almost all industries to adapt and progress faster than anyone could have imagined. For a sector that heavily relied on in-person engagement, higher education has had to make major changes over the last year. 
We have seen unparalleled resilience from institutional staff members across the world as they have grappled with the 'new normal', as well as from students who have had to shift their expectations and adapt to a new way of learning. As we begin to move forward beyond the pandemic, it is becoming increasingly clear that the impacts on international higher education will be both lasting and significant.
IDP Connect will soon release a whitepaper which combines research on three critical higher education sources to better inform the future of international higher education: global student demand data, the institutional voice and the student voice. This blog takes a look at some of the findings.
Some early highlights from the whitepaper include:
Student demand for key English-speaking destinations has been varied throughout the pandemic and has been greatly influenced by national policies and restrictions related to Covid-19
Overall, global student demand has rebounded since falling dramatically in response to the pandemic
Throughout the pandemic, institutions in Australia and the UK have considered student volume targets their top recruitment priority, whilst in Canada priorities have been more fairly distributed between volume, quality and efficiency, and diversity
Institutions rely on a wide variety of recruitment channels and believe that a personal connection with prospective students produces the best conversion results
Student demand data and insights
International student demand trends and perceptions offer an essential roadmap for institutions to navigate future priorities such as volume and diversity. By understanding where prospective student demand is coming from, as well as which destinations, institutions and courses prospective students are showing interest in, institutions can make better strategic marketing decisions to ultimately boost conversion rates.
IDP's IQ Demand Tracker - informed by 100m+ annual visits across a suite of localised student websites – paints a mixed picture of international student demand for key English-speaking destinations throughout the pandemic.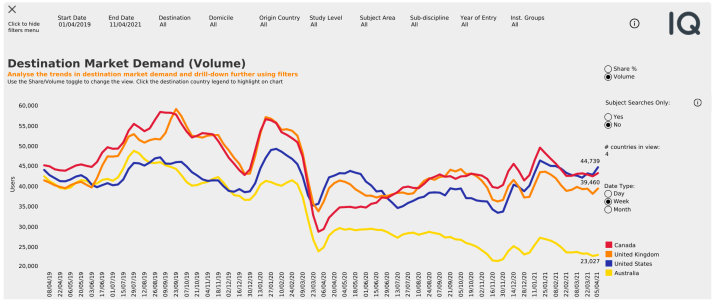 The data shows that the lack of certainty as to when Australia will begin to allow international students to enter the country, and therefore study face-to-face, has led to significant decreases in global demand.
The UK, on the other hand, has managed to maintain relatively stable demand due to more favourable policies with regards to graduate or post study work rights for students and the fact that it has remained open to receiving students in-country through much of 2020.
Canada saw the largest decline in interest as the pandemic took hold, but, with a strong recovery throughout the second half of 2020, continued to be the most popular destination in terms of global search volumes.  
Overall, global student demand has rebounded since falling dramatically in March and April 2020 in response to the pandemic. This return of international student interest, even during the pandemic, is a very positive sign for future student demand.
Understanding the institutional voice
To understand the institutional voice and how priorities have shifted during the pandemic, the whitepaper included findings from 36 confidential interviews conducted between August and September of 2020 with institutional leaders across Australia, the UK and Canada.
The interviews reveal that the top priority across all three markets at the time was achieving student volume targets, followed by diversity of international student bodies, and quality and efficiency of marketing and recruitment processes. Prior to the pandemic, these priorities, for the majority of interviewees (36), would have been relatively evenly distributed, demonstrating the extent to which institutions have had to adapt in response to COVID-19.
Another key aspect of the research was channel management, seen by all interviewees as crucial to achieving volume and diversity targets. Interviewees indicated a growing reliance on in-country representatives and a move towards a more proactive reach-out and convert model.
Interviewees suggested that response speed and a personal connection with prospective students produced the best conversion results. Recruitment agents were viewed as key to driving volume and gaining more geographic coverage.  However, institutions expressed a desire to form more strategic partnerships with fewer but more selective agents.
There is a well-documented risk that the over-prioritisation of achieving student volume targets – as indicated in the Whitepaper - could lead to potential future problems regarding student diversity and the quality of their onboarding processes. An over-reliance on one or two strong student markets may drive volume for the time being but could leave institutions in a vulnerable position longer term. Trusted partnerships with recruitment agents are likely to become increasingly important, as institutions seek to diversify international student intakes.
While the ability for institutions to realise their goals will depend on several factors, most important among them will be the extent to which both institutions and governments listen to and understand the needs of international students from around the world.
Understanding student perceptions and motives
In addition to understanding the data, institutions should dig deeper into the psychology of higher education decision-making among prospective students, with a view to build responsive and effective marketing and recruitment strategies.
In its series of International Student Crossroads research reports, IDP Connect found that respondents remained resolved in continuing their studies abroad despite quarantine measures. There was growing acceptance of online learning as part of a blended delivery model, but students continued to be determined to receive an in-person study experience, even if at a later stage.
The research also indicates stark differences between source countries. For students from South Asia, the ability to gain in-county work after graduation remained their top consideration.  In contrast, for Chinese students, the mode of delivery, numbers of Covid-19 infections and the destination country's Covid-19 policy trumped all other factors when choosing where to study.
The research shows that many international students will remain willing to travel and commence their studies as planned, even during the remainder of the pandemic. Furthermore, the sector can expect to see demand return quickly, as international travel becomes more widespread once again.
Into the future
As we look towards a post-pandemic world, institutions can track demand data down to granular levels and understand prospective student motives in more detail than ever before. While volume is likely to remain the top priority for the foreseeable future, institutions will also need to start paying more attention to their diversity and onboarding processes as we move beyond the pandemic.
Equipped with the right information, insights and partnerships, institutions can and should proactively engage and build trust with the right prospective students. This approach allows for effective recruitment and learning experiences that meet the varied and unique needs of international students around the world.

Frankie Clemens is Senior Editor at IDP Connect.
At the International Higher Education Forum, Simon Emmett, CEO of IDP Connect, had a keynote entitled "Will on-campus recruitment rebound?".