Analysing the UK's international student recruitment landscape
Last updated on Tuesday 20 Dec 2022 at 10:27pm
The historic data of the UK's higher education sector paints a vivid picture of stability, growth, and even enduring appeal. More recent HESA data illustrates robust demand, a huge milestone for the sector and a cause for celebration with the UK surpassing its target of 600,000 international students a decade early. However, on closer inspection this may simply be creating a false environment that not only offers a limited perspective of our educational landscape but also overlooks the geopolitical factors that have helped bolster the UK market.
Across the pond, President Trump's anti-immigration rhetoric left international students seeking more welcoming destinations to study abroad and, unsurprisingly, since the inauguration of President Biden there has been increased interest for the US. The US, through its department of state and education, has proposed a renewed commitment to international education, a clear refocusing on where previous administrations have not prioritised this or had little interest. Canada is ever popular, particularly with Chinese and Indian students (also our top source markets) and remained a leading destination for international students throughout the pandemic. And in February 2022, Canada outlined some extremely ambitious immigration targets where international students will play a key role. Australia and New Zealand kept their borders closed to all non-residents from March 2020 and recently reopened them. This clearly stemmed the flow of new international students and indirectly created opportunities for other markets such as the UK.
At the start of the year, the UK was closely trailing behind the US and Canada claiming 20.36% of share as shown by our IQ Demand Tracker tool. And while the UK higher education sector has done exceptionally well showing resilience through the pandemic and hitting crucial targets outlined by the government as mentioned earlier, our data shows the actual state of affairs in real-time.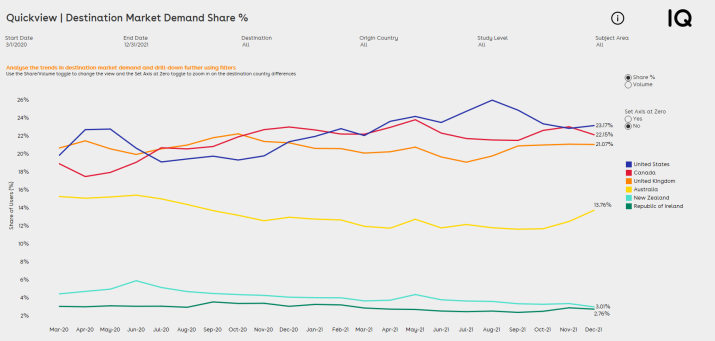 Furthermore, our recently published New Horizons report showed that international students have placed career development at the top of their motivations to study overseas, surpassing education quality, knowledge, education options and reputable qualifications.
However, for students indicating their preference was the UK, this slipped into second place, behind education quality suggesting that either the UK is renowned for quality or that students don't see the UK as the most effective country for career development opportunities post-graduation.
This is the first indication that evidential student outcomes are being placed at the forefront of student decision making. Students are deciding based on return on investment and calculating if the outcomes from overseas study are worth the financial outlay. With these early indicators showing the increased competition and various macro factors for institutions, how can the UK continue to lead the way?
With that in mind, we are pleased to announce that we have recently conducted an international survey, named Emerging Futures with 10,000 respondents to date, and we will be presenting an exclusive preview of this research at the International higher education forum 2022 event. Please join us as we analyse the data across several source and destination markets and discuss indications for the future of UK market.
IDP Connect are our headline partner at the International higher education forum 2022. Join Chief Executive Officer of IDP Connect, Simon Emmett, as he unveils early findings from IDP Connect's Emerging Futures research.