Being the first one: attending university as a first-generation student
Last updated on Tuesday 20 Dec 2022 at 10:24pm
How can universities work to make the transition to higher education as smooth as possible for first-generation students? As part of our celebrations for this year's National Inclusion Week, former Kingston University student Lauren Harper, who was the first in her family to attend university, shares her experiences.
Being the first one to go to university in your family can be an alienating and difficult experience.
As part of learning what university was, I had to teach my parents too – and as most people can appreciate, teaching your parents isn't always the easiest thing to do.
Both my parents were big believers in 'the University of Life', as no one in my immediate and extended family had been to university. Instead, they had learnt a trade or got a job, and that was just what we did.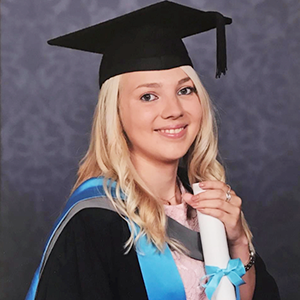 The lack of experience of attending university in my household often made me uncomfortable and anxious about the thought of going. I was concerned my family would think I thought I was better than them, and without having anyone that had been to university before, I had no one close to me to ask questions. I vividly remember my dad thinking that if student finance wasn't paid back in time the bailiffs would come to our house.
These barriers, combined with a lack of visibility of first-generation students at universities, deterred me from engaging with the application process.
The pressure and lack of clarity in what I wanted to do meant that I did not apply for university in sixth form. Instead I took a different route and studied a vocational course, which really helped me navigate what I wanted to do career-wise.
The decision to attend university
I soon began realising what subjects I was missing. This led me to realise that my passion was still in English and writing, and this sparked the idea of university again.
Some of my friends were already studying at universities across the country, so for the first time, I could ask questions about universities and even go and visit them. This newfound information – combined with a less pressured situation – helped me combat a lot of the anxieties I had around going, and eventually led to me applying.
Supporting first-generation students
Although I was able to access a lot of information before attending university, there is so much more that can be done by universities to encourage and welcome first-generation university students.
Here are my suggestions for how universities could better support students like me:
If you can see it, you can be it
Universities should increase the visibility of first-generation students and further push outreach to students from non-traditional backgrounds. Universities could produce more online content featuring first-generation students, or put on tailored talks by first-generation students at open days, at outreach talks, at schools, and during fresher's week.   
Following in the footsteps of others
Universities could pair up new first-generation students with current students that also come from similar backgrounds. Mentoring schemes could be a helpful way of supporting new students with getting used to university life, and also giving current students valuable experience.
Preparation is key
Universities should provide more schemes for first-generation students to join, so that they can prepare themselves for student life and access any help and support they may require at university. For example, Kingston University already runs the head start scheme, which helps students prepare for university life.
Get your facts straight
Clearer resources for parents and students could help dispel myths and anxieties around student loans, debt, accommodation and welfare. For example, digital handbooks could include clear terminology and definitions of words and phrases specific to university.
Going to university was one of the best decisions I have made in my life, and I wholeheartedly believe that it should be an option for everyone, regardless of their background or experiences. By working to break down these barriers and increasing support and visibility, I believe that universities will become richer places that truly represent the breadth of our diverse society.