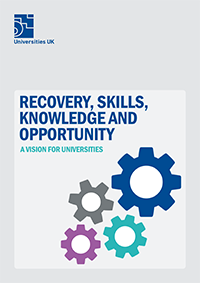 Covid-19 has had - and continues to have – a unique and extraordinary impact on all of our lives. The years ahead are set to be a time of unparalleled change, challenge, and opportunity. 
Universities will be at the heart of not just a recovery, but new ways to invest in our people and local communities, our world-leading research and creating a more equal, healthier, and sustainable future for the next generation. 
The UK government will be making significant decisions on the future of higher education in its next spending review and response to the Augar review. In this vision we set out how universities can step up and lead the way when it comes to the levelling up agenda, skills, social justice, research and creating new opportunities for everyone – from local communities to the global stage. 
Read UUK's vision for universities. 
Read a shorter briefing note of the vision