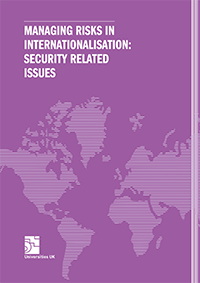 Universities UK (UUK) has published detailed guidance for institutions on the considerations and measures they should take to guard against hostile interference and promote academic freedom. 
The UK's universities co-ordinate partnerships and welcome students from across the world. Internationalisation has shaped the agenda and strategies of universities not just in the UK, but globally. It has brought significant economic and social benefits to the UK, intellectual opportunities for scholarship and transformed universities into global institutions. 
The vast majority of international collaborations are beneficial to the UK, but like every activity, there are some risks involved and over the years these risks have become more dynamic and complex. 
It is vital that universities are aware of these risks and have proper processes in place to protect themselves, their people and their reputations. 
Read UUK's guidance, 'Managing risks in internationalisation'.
Read a shorter briefing note published alongside the guidance.