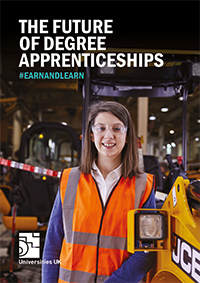 ​Degree apprenticeships are a success story. The number of people starting degree apprenticeships is rapidly increasing, the range of apprenticeships on offer is broadening and the first degree apprentices have recently graduated. But progress developing degree apprenticeships in England is being held back by poor levels of awareness among school pupils, parents and employers.
Bold action is needed from government to reform the system so many more people can become degree apprentices. 
Our recommendations
The report's four main recommendations are:
Government should lead a campaign to promote the benefits of degree apprenticeships to employers and the public, including better careers information and guidance at an earlier age in schools, and UCAS should make the application system for degree apprenticeships as straightforward as it is for undergraduate degrees. 
 

Government should invest in initiatives to support social mobility, lifelong learning, and the growth in degree apprenticeships among underrepresented groups.
 

The system should develop to meet current and future demand for higher level skills in areas such as digital technology, management, and public services, and to boost regional economies.
 

Make it easier for employers to include a degree within their apprenticeships where they see it adding value to their business and to their apprentices, and the government should commit to streamlining processes and reducing unnecessary costs in the system.