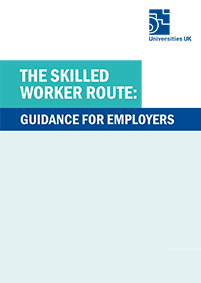 This guidance is to support university employers to transition to the skilled worker route under the new points-based immigration system. 
Replacing Tier 2, the route has opened for applications from those requiring permission to work in the UK from 1 January 2021. EEA nationals that arrive in the UK before 31 December 2020 will still be eligible for the EU Settlement Scheme. 
Under the skilled worker route, individuals are required to have an offer from a licensed sponsor for a job at RQF level 3 or above and be able to speak English to an acceptable standard. They will need to earn additional 'tradeable' points through a combination of points for their salary, a job in a shortage occupation, being a new entrant to the labour market or having a relevant PhD. 
This guidance outlines these criteria in more detail, and provides a series of examples to show how the points requirements can be applied in different scenarios. 
UUK is committed to ensuring the implementation of the new system is as smooth as possible for our members, and is in regular contact with the Home Office and UK Visas and Immigration.