What does teaching and learning look like in England this year?
Last updated on Thursday 11 Nov 2021 on 1:22pm
As students return to university for the 2021–22 academic year, there is a focus on what their student experience will look like. In England, there are significant in-person activities that students will benefit from, supported by online digital resources and learning.
Most teaching, learning, student support and extracurricular activities will be held in-person. This is what universities want to offer, and this is what students want. 
The narrative about the student experience being primarily online is not something we recognise. For most students it will be a student experience much more like what universities were offering before the pandemic with a lot of in-person teaching, learning, support, and social activities, but with digital resources and learning. 
Universities focus for the start of the new academic year has been on welcoming students back in-person, and supporting new students as they start university. 
What is being delivered in person?
The quick answer is the majority of teaching and learning and access to studying resources is in person. Students are back at universities, and campuses are busy.
Students can expect most seminars, small group teaching and study, practicals, tutorials, laboratory and practical work, rehearsals, and placements to be face-to-face, and some lectures.
In addition, student support, welcome week activities and inductions, sports, cultural and social events are primarily in-person.
What is being delivered online – and why?
There is no one-size-fits-all answer, and that's what makes it more difficult to paint a picture of what teaching, learning and support is available for students online. The fact is, it will differ from university to university, and even course by course, for some of the reasons below. 
Some media articles have focused on large lectures being delivered online and used this to suggest that all teaching and learning is being delivered online, which is not the case. 
Evidence from universities shows that large amounts of in-person teaching and learning will be taking place. There are a range of approaches universities are taking, for different reasons. 
Student feedback
Keeping elements of online learning that have had positive student feedback and results – like increased flexibility, ability to watch and rewatch lectures online, giving all students a front row seat for some practical demonstrations which is not possible in person, and access to a wider range of academic experts globally. 
The online parts are there to enhance the in-person experience, rather than replace it. Early analysis from universities suggests that the shift to more online teaching and learning may have helped to narrow attainment gaps (the gaps in achievement between two groups of people) and supported non-traditional learners by offering more flexibility and choice with different participation options.
Heath and safety
Some universities will have older buildings that are less well ventilated. Good ventilation remains key to minimising the spread of Covid-19 so institutions may be continuing some provision online in the short-term for this reason.
University strategy
Before Covid-19, universities were using technology to enhance teaching and learning. The pandemic has just accelerated the pace of change. Universities have been introducing elements of online provision as part of a longer-term shift away from traditional teaching and learning.
Student circumstances
Some online teaching and learning is also being offered as an option to students who are unable to return to university at the start of term. This includes students with health issues and some international students who may not be able to travel to the UK yet. Many universities are offering some online provision for a period of time. After this, students are expected to be on campus.
Building on investment
Universities have made big investments in software and equipment, upskilling staff and creating content. They want to build on this investment where there is positive student feedback and results.  
Student views on teaching, learning and online experiences
Many students want in-person experiences. A recent Advance HE/HEPI Student Academic Experience Survey 2021 found that if there were no pandemic restrictions, 57% of students would prefer to learn 'mostly in person'.
However, the same survey also showed that there is an appetite to keep some digital provision. 31% of students would prefer a fully blended approach.
31% of students would prefer a fully blended approach.
A recent student survey run by the Student Futures Commission found almost half of students wanted an in-person experience supplemented by online activities at least once or twice a week.
The Jisc Learning and Teaching Reimagined project (November 2020) also found students felt positive about learning that includes online parts, alongside in-person learning, because it's more convenient, saves time and makes it easier to access course materials.
What does the future look like?
Universities are not simply going back to what was in place before. Universities were already moving to a blended approach – using digital tools and technology to enhance teaching and learning – before the pandemic hit. We must not waste the investment, learning and benefits of this time by setting the clock back.
The world has changed, and we expect online and digital communication to play a bigger role in many professions.For example, delivering online pitches and presentations, collaborating with global partners, and using video calls. Making sure our graduates are confident users of online and digital technologies will be important in making them ready for their future jobs.
We need to take the best of what we have done during the pandemic and add that to the best of what we do face-to-face. By doing this, we will have a truly world-class offer.
There have already been some large-scale tests of what the future might look like:
Jisc's Learning and Teaching Reimagined
A five-month initiative to understand the response to Covid-19 and explore the future of digital learning and teaching. The report recommended universities should accelerate the adoption of blended learning with close involvement of students in all aspects from design to delivery.
The Office for Students' Gravity Assist report
The report (commissioned by the former Education Secretary Gavin Williamson) offered a range of insights on the benefits of digital delivery and called on the higher education sector to embed digital and online in its future.
Examples from universities
These are some examples of how universities in England are approaching teaching and learning this autumn.
How digital is enhancing face-to-face provision
Some examples from our members on specific projects and examples of how digital learning can support inperson teaching: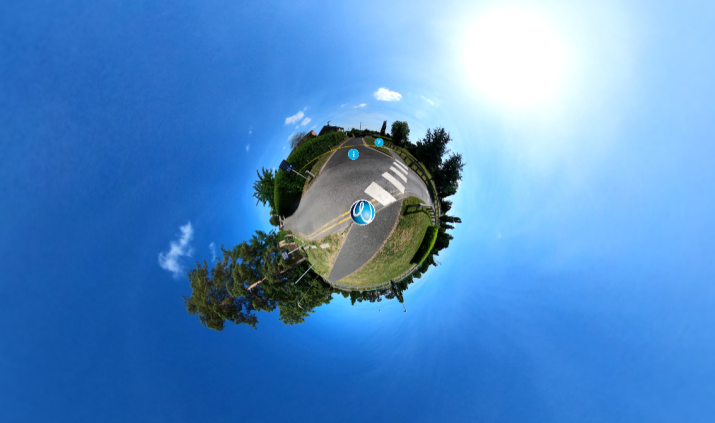 University of Worcester: Science Simulation for Crime Scene Investigation
Pre-Covid-19, there were already to develop an immersive and interactive crime scene simulation to use with students on the university's Forensic Science and Applied Biology BSc (Hons) course. The pandemic accelerated these plans so students could work remotely on crime scene tasks. The simulation helps students to work at their own pace individually and in supervised groups to put their taught knowledge into practice. The online simulations will continue to be used post-pandemic as they have been found to help face-to-face teaching.
The virtual crime scenes have also been used to inspire the local community to engage in science. The pandemic restrictions had left university staff unable to attend community, school and college events, but the virtual crime scenes meant they could still run events. The feedback from outreach partners and students has been overwhelming positive and university staff have now created a library of virtual crime scenes.
In September 2021, this work was placed runner up in the Pearson HE Innovate awards for 'Most Innovative hybrid or blended learning project'.
University of Nottingham: Teaching the Principles of Classical Genetics
Dr Surbhi Grewal uses a combination of in-person lectures and a virtual laboratory simulator to teach more than 250 first year students the principles of classical genetics, using virtual mutant fruit flies.
Previously, hands-on practicals on this topic used to be taught over a 4-week period to ensure everyone had enough lab time, meaning the theory was taught 'early' for some students and 'late' in the course for others.
Using lectures and the virtual lab means that Surbhi can teach the theory first to the whole group, and then keep them together to work simultaneously on the virtual lab practicals over two weeks. This frees up two weeks for further simulations, meaning that students can gain greater depth in their studies and apply their theory learning to more examples. Students alsoreported a greater confidence in carrying out lab practicals last year.
The simulated practicals benefit students who require additional practice, as well as those who want more flexibility as to where and when they undertake practicals or have physical or sensory impairments that prevent them from working effectively in a laboratory environment.
This approach also frees up time in laboratory schedules to be able to hold more practical sessions in-person. Surbhi has developed a new series of laboratory sessions to teach her students how to extract DNA from cells and conduct DNA fingerprinting.
Whole university approaches
These are some examples from our members on how they are approaching teaching and learning this autumn across the whole of their institution.