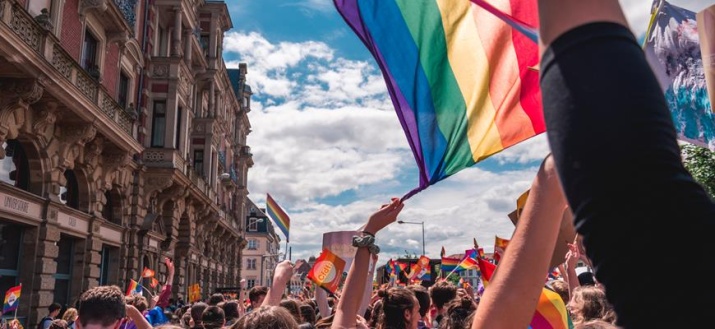 ​Every year, universities make brilliant efforts to show their support for LGBTQ+ staff and students by celebrating Pride month. Despite the challenges of COVID-19, this year has been no different.  
It has been inspiring to see the logos of institutions change to include the fully inclusive rainbow flag in recognition of the intersectionality of Pride, alongside videos of staff 'passing the Pride' in homemade montages that celebrate diversity in our institutions.
But while this display of solidarity for the LGBTQ+ community is respected, we all know this is not the full story. A recent report by Stonewall reveals some harrowing realities of being LGBTQ+ at university: almost 1 in 4 LGBTQ+ students say that their university doesn't demonstrate visible commitment to trans equality, while 1 in 10 LGBTQ+ students say that their university lacks visible commitment to LGB equality.
These figures demonstrate there is still much more that institutions could do to ensure the welfare and support of all students. However, words are cheap, and change requires action. 
To this end, I thought I would draw on my lived experience as a recent LGBTQ+ graduate to offer some reflections for what this could mean in practice.
Provide online LGBTQ+ support
It's well known that living openly as LGBTQ+ at university is not particularly straightforward. Stonewall reports that 42% of LGBTQ+ students hide or disguise the fact they are LGBTQ+ due to fear of discrimination. During my undergraduate degree, I was one of them.
A dedicated LGBTQ+ space on campus and resources to improve physical and mental welfare were managed by the LGBTQ+ representative committee. But for the 42% of students who were not publicly LGBTQ+ these resources were, I found, almost impossible to access; despite being necessary to maintaining positive mental health and support with coming out.
By moving LGBTQ+ services online, universities could widen the reach of important resources for those students who feel they cannot live openly as LGBTQ+ for whatever reason. Online support could encourage a mentally healthier LGBTQ+ student population as students would be able to access the required support without fear of being identified. COVID-19 has highlighted the technological capabilities of universities to offer online support services for LGBTQ+ students, irrespective of when campuses open. Institutions should use this opportunity to improve welfare practices for LGBTQ+ students and widen access to support services.
17% of trans students have reported being unable to use the toilet they feel comfortable with at university as gender neutral toilets are still not the norm at all UK university campuses. Trans and/or gender non-conforming students often have to use a gendered toilet that doesn't necessarily match their identity.
Not only does this expose them to physical and/or verbal abuse from others, it exacerbates the wellbeing challenges that many trans and gender non-conforming students battle with daily. These challenges could be removed by adopting inclusive practices.
The bathroom problem is just one example. Not all universities have created designated LGBTQ+ spaces, however these can bring enormous benefits to the LGBTQ+ community. LGBTQ+ lounges or designated accommodation blocks allow students access to the same university experience as non-LGBTQ+ students as the fear of harassment is somewhat reduced.
Promote solidarity among university staff
In 2019, more than 30 academics from UK universities called for institutions to cut ties with Stonewall as the charity calls for a trans-inclusive stance in education and opposes transphobic teaching and research materials.
As a student at one of the universities that publicly wrote out against the letter, the knowledge that the staff at my university were standing in solidarity with me helped me realise that I had their support. 
With support, students can be fully expressive with academic tutors and can have freedom of thought without judgement, improving the overall educational experience university brings.
Solidarity with LGBTQ+ students should be encouraged throughout all levels of an institution: academic, professional services, and leadership. Encouraging university staff to start LGBTQ+ networks and to engage with student-led societies can help create a link of solidarity between staff and students.
Create an accessible policy against bullying and harassment
It's important that universities have policies in place that set out a zero-tolerance approach to harassment and to create a culture that enables LGBTQ+ students to have the confidence to raise a concern, make a report or challenge harassment without fear of the consequences. By standing up against any form of bullying or harassment, institutions can instill a long-term message of LGBTQ+ inclusion by demonstrating zero tolerance to abuse.
Ensuring policies are transparent and demonstrate how an institution will protect LGBTQ+ students is critical. Communicating the policies to students and staff is also important so that students know who to report an incident to, and the processes for doing this. Tackling microaggressions and harassment in institutions is one way that our universities can ensure the long-term inclusion of LGBTQ+ students.
Throughout the sector, universities must continue to look at how they can demonstrate a long-term commitment to protecting LGBTQ+ students. Pride may be a foundation on which institutions begin to improve welfare and support, however this remains a continuous process. Ensuring that all students have the same experience, regardless of sexual orientation or gender identity is an objective where everyone benefits.