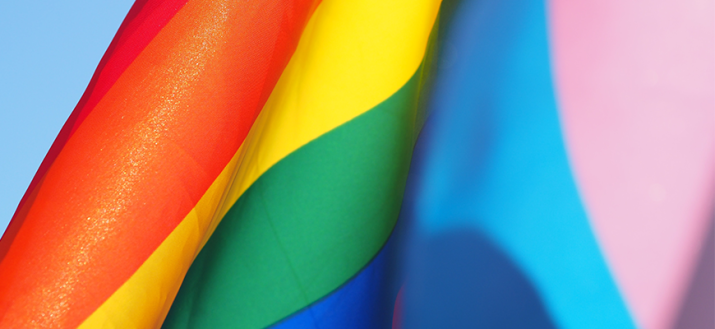 This Pride month Sebastian Bromelow, EDI Partner at Kingston University, calls on the higher education sector to "make some noise", embracing a history of rebellious thoughts and actions by not only celebrating the successes of the LGBTQ+ community but also responding to challenges.
The LGBTQ+ community is often held up as a community who really "won" when it came to getting what we wanted.
On the surface of it, who could really disagree? In the UK being gay was illegal right up until 1967's Sexual Relations Act – albeit a full 10 years after Wolfenden's Report called for the decriminalisation of gay relationships.
We endured Section 28 from 1988 through to 2003. Then in the 2000s we saw more legal rights for LGBTQ+ people in this country than at any point in history with acts in 2004 (Civil Partnerships Act & Gender Recognition Act), 2010 (Equality Act) and 2013 (Marriage Act).
In the space of 20 years, we've gone from it being illegal for schools to even talk about gay people to now living in a country where it's illegal for schools not to teach about LGBTQ+ relationships. There's so much for us to celebrate… right?
Ironically, I feel the rapid legal equality achieved for LGBTQ+ people has, in the public consciousness and in higher education, given the feeling that, of all the equality struggles, LGBTQ+ is now the one that's "fine", maybe even "done".
But you know, and I know, that for some parts of our community the notion that victory has been achieved is laughable – just type in "Trans" in the news section of Google and take a look at how "done" we really are.
Living in our rainbow tower
Universities have held a long and proud history as places of academic excellence and rebellious ideas. From that history has grown the mythology of wholesale LGBTQ+ inclusion and tolerance, whether staff or student – something of a rainbow tower if you will.
The data backs us up. Our staff and students are pretty queer, with 7.5% of students and 6.4% of staff identifying as something other than cis-heterosexual – that's compared to around 2% within the population as a whole.
Plus, that's the tip of the iceberg as 55% of staff and 35% of students chose not to respond, so there could be a whole lot more of us out there. While so many groups are struggling to be even represented within the higher education sector, we're already here.
Pride month is rightfully a celebration of all that we've achieved; from the legal milestones to the representation within higher education, all wrapped up in the comfort of the rainbow tower's perceived liberal and inclusive embrace.
For many a university marketing team, LGBTQ+ pride – with our conveniently colourful flag – is a diversity strand ripe for positive clickbait. However, while prides today are flags and corporate sponsors, they were born of bricks and pepper spray.
I feel there's a real pressure to play into the majority narrative that we've left that past behind us, a pressure we should not succumb to.`
Injustice anywhere is a threat to justice everywhere.
We are not "ok". We are not "done". We have not "won". Black Pride's theme this year is "Love and Rage" – what a necessary statement that is! QTIPOC people, in particular, are feeling the walls of the rainbow tower as whitewashed and closing in.
Rights so long fought for in this country, and in the higher education sector, suddenly stand at a crossroads. Trans+ people are at the heart of a bizarre culture war no one was asking for, POC within and outside the LGBTQ+ community are still fighting to breathe and be heard, and, underlying all that, I still can't shake the feeling that our collective experiences have become somewhat second-tier in the sector.
So, my call to arms is this – make some noise! Higher education needs to wake up to its LGBTQ+ community's actual experiences, celebrate them where there's success, but really listen and act where there is challenge.
Higher education must not shirk away from its history of rebellious thoughts and actions, it should come out swinging into the national queer narratives at play, as our staff and students exist as much inside the university's rainbow tower as outside of it. Who's with me?