Professor Dame Sally Mapstone FRSE is the Principal and Vice-Chancellor of the University of St Andrews. She was appointed in 2016.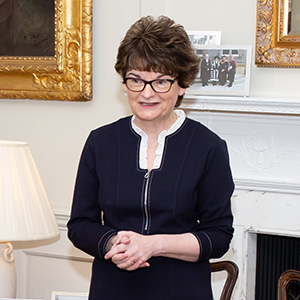 Sally's academic background is in Medieval and Renaissance Scottish literature, and she has published widely on Scottish literature in Scots and Latin from the fourteenth to the seventeenth centuries. Sally was educated as an undergraduate at Wadham College, Oxford, and she returned to Oxford after working in the publishing industry to attain her DPhil. She spent her subsequent academic career at Oxford, and she left in 2016 having fulfilled several senior leadership roles including Pro-Vice-Chancellor for Personnel and Equality and Pro-Vice-Chancellor for Education.  
Beyond St Andrews, Sally contributes extensively to sectoral bodies and learned groups with a particular emphasis upon widening access and participation. As well as being a Board Member of UUK, she is a Vice-Convener of Universities Scotland, a trustee of UCAS and the Europaeum, President of the Saltire Society, Vice-Chair of the Carnegie Trust for the Universities of Scotland, and Chair of the Higher Education Policy Institute's Board.   
 
I love the collegiality of St Andrews, which underscores pretty much every area of our activities. We're uniquely positioned as an institution that is small enough to be intimate and to prioritise one-to-one attention, but we're large enough to be cosmopolitan and exciting.  We have students and staff from over 140 different countries and see ourselves very much as both a Scottish and a global university.