Professor Lisa Roberts is the Vice-Chancellor and Chief Executive of the University of Exeter.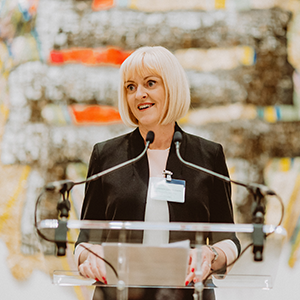 She took up the post in September 2020 having previously been Deputy Vice-Chancellor (Research and Innovation) at the University of Leeds from 2016–20.
Lisa is a virologist by training. As Executive Dean of Health and Medical Sciences at Surrey, she opened the eighth School of Veterinary Medicine in the UK. In May 2022, Lisa was appointed by the minister of state for further and higher education to chair a working group centred on confronting the issue of spiking attacks against students. She is also a member of the Department for Education's Lifelong Loan Entitlement Working Group.
What I love most about my job is enabling and supporting great colleagues and students to achieve amazing things. University research and education really does transform lives and not many jobs can give you that sense of pride and satisfaction every single day