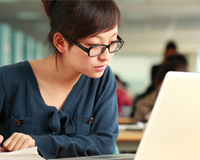 ​Responding to the HEPI / Advance HE Student Academic Experience Survey, Alistair Jarvis, Chief Executive, Universities UK said: 
"It is valuable to hear student views on the past year which has been far from the 'usual' university experience. Significant restrictions have severely limited the in-person teaching, support and non-academic activities that universities have been able to offer – with much provided online instead."
"It is disappointing – albeit not surprising – to see how the pandemic has shifted views on value for money. Universities will reflect on student feedback and continue to adapt and enhance blended learning approaches."
"Universities remain hopeful that increased amounts of face-to-face teaching and other activities will be possible next year, whilst ensuring the latest public health advice is followed to keep staff and students safe."
"It is positive to see that students appreciate the efforts of university staff under very challenging circumstances. By implementing Covid-19 safety measures, enhanced digital learning platforms, and additional learning and wellbeing support, universities have done all they can to help students progress and meet their learning outcomes in such a difficult year of rapidly changing government restrictions and public health advice."
Notes to editors
Universities UK (UUK) is the collective voice of 140 universities in England, Scotland, Wales and Northern Ireland. Its mission is to create the conditions for UK universities to be the best in the world; maximising their positive impact locally, nationally and globally. Universities UK acts on behalf of universities, represented by their heads of institution. Visit: www.universitiesuk.ac.uk