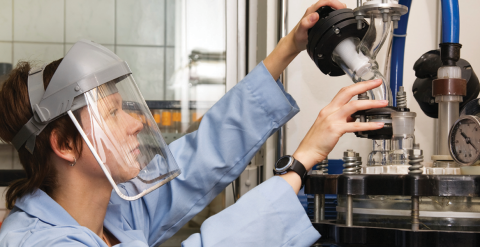 ​Universities UK has welcomed the UK government's roadmap for easing lockdown restrictions in England, which confirms that all students on practical and practise-based courses who require access to specialist equipment or facilities can return to universities from 8 March 2021.
Professor Julia Buckingham, President, Universities UK said:
This announcement is a long-awaited boost for students in England on practical and practice-based subjects, whose access to specialist facilities – laboratories, studios, workshops and performance spaces – is essential. Universities look forward to welcoming these students back to Covid-secure campuses from 8 March, where safety measures including serial asymptomatic testing and social distancing will be in place to ensure the risk of transmission remains low.
While today's news is positive for some students, it will be disappointing for others that had hoped the government would have allowed them to return. University staff will continue working hard to keep all students motivated, supported, and progressing towards their qualifications. There will also need to be a further focus on supporting students' mental health and wellbeing in the weeks ahead.
Notes to editors
Universities UK (UUK) is the collective voice of 140 universities in England, Scotland, Wales and Northern Ireland. Its mission is to create the conditions for UK universities to be the best in the world; maximising their positive impact locally, nationally and globally. Universities UK acts on behalf of universities, represented by their heads of institution. Visit: www.universitiesuk.ac.uk.

Universities and government both recognise the importance of face-to-face teaching, learning and support for students' education and their mental health.

Measures universities have undertaken to make campuses Covid-secure include: regular asymptomatic testing, social distancing, enhanced cleaning and hygiene regimes, protective equipment, regular communication of public health messages, use of face coverings, and careful management of timetabling for in-person classes and practicals.

It is estimated institutions will spend at least £622 million this year on making campuses Covid-secure and providing students with the extra learning, wellbeing and financial support they need. That figure is likely much higher given the accommodation refunds being offered and extended periods of lockdown.

New data published by the Office for National Statistics (ONS) shows that infection rates of higher education teaching professionals are low compared to people working in other education settings. This follows previous research from the ONS which revealed there is minimal evidence of Covid-19 transmission in face-to-face learning environments at universities, such as classrooms.

Where cases emerged within university communities in late 2020, staff and students proved they could respond quickly and comprehensively to drive down transmission.

Where it has been necessary for students to self-isolate, universities have ensured that students are well supported by taking steps to take care of both their physical and emotional wellbeing, including access to testing and health care, mental health support, learning online, safe social interaction, food deliveries, laundry, and financial support. Last year UUK created a checklist to guide universities that are supporting students who are self-isolating.