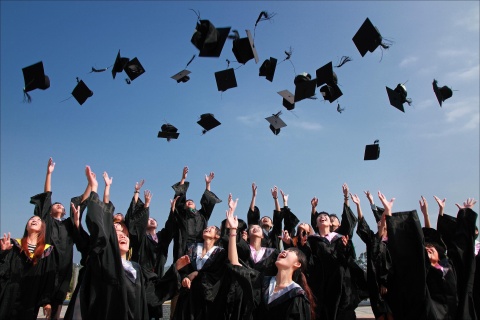 ​A new poll has revealed that 80% of British adults agree that the UK's immigration system should allow scientists, academics and their support staff to work in this country at any stage of their career.

The poll, by Savanta ComRes for Universities UK, also revealed that almost nine in 10 (85%) said it is important for the UK to be a world leader in science and research.
At a time when the Migration Advisory Committee is exploring a points-based immigration system and a salary threshold for international staff, this poll places a high value on the contribution of international staff at UK universities.
Seven in 10 (69%) said that a UK points-based immigration system should be designed so that scientists, academics and their support staff score highly.
Almost nine in 10 British adults (87%) say it is more important that the UK's immigration system attracts university staff who are highly skilled. Only 3% of British adults agreed instead that it was more important the immigration system attracts university staff who are highly paid.
Nine in 10 (89%) British adults also agreed that scientists, academics and their support staff are valuable to the UK, while 82% felt that the UK should be competing with other major economies to attract such staff to the UK.
Alistair Jarvis, Chief Executive of Universities UK, said:
"Technicians, researchers, and language assistants are all vital in supporting both high-quality teaching and innovative research at our universities. These skilled roles are critical to the ongoing success of our universities.
"As the UK prepares to leave the EU, it is more vital than ever that the UK remains a world leader in science and research and continues to attract international talent at different stages of their careers - from support staff and technicians to Nobel Prize winners.
"If a new immigration system were to have a salary threshold, Universities UK has called for a threshold of £21,000 which would allow recruitment for most technician and language assistant roles in the higher education sector.
"This polling shows the strength of feeling among the British public that immigrants should be welcomed into the country on the strength of their skills and potential rather than facing a system that judges them on their income. This is vital for the UK to continue to lead the way in research and education."
Methodology: Savanta ComRes interviewed 4,042 British adults from the 22nd to 26th November 2019. Data were weighted to be demographically representative of Britain by age, gender, region and social grade. Savanta ComRes is a member of the British Polling Council and abides by its rules. Full tables on the ComRes website.

Notes
The Migration Advisory Committee (MAC) is currently exploring a points-based immigration system and a salary threshold of £30K for all EU staff.
Skills are more important than salary

Tina Schrader, Senior Research Technician, University of Exeter
From Germany
Tina Schrader joined the University of Exeter in 2012 as Senior Research Technician for the College of Life and Environmental Sciences. She has over twenty years' experience as a research technician.
Tina is responsible for the managing of the tissue cell culture facility in the college. She trains staff and students up to doctoral level and has co-authored several research journal articles and book contributions.  She has received several awards, and has helped to improve understanding and diagnosis of many unusual human disorders. Her work is highly skilled and involves extensive expertise in quality control, equipment maintenance and supporting other staff.
Dr Francesca de Domenico, Junior Research Fellow at the University of Cambridge
From Italy
Towards the end of her master's degree Dr Domenico joined a research project on the inefficiencies in gas turbines as a laboratory technician and played a pivotal role in the success of the project.
Her impact was rewarded with an offer to remain at Cambridge and she subsequently obtained her PhD. She is now a Junior Research Fellow in Engineering at Gonville and Caius College, Cambridge.
Bonnie Buckley, Teaching Laboratory Technician, University of Bristol
From Germany
Bonnie arrived in the UK to study an MSc in Science Communication. She is now responsible for planning and preparing for the provision of practical laboratory sessions at the University of Bristol, as well as delivering lessons at local schools and external organisations. This is a critical role in supporting and educating the next generation of scientists, researchers and graduates.
Bonnie is a regular volunteer at the Bristol International Student Centre and local youth clubs, and provides mentoring and support for children's groups at local churches.
International staff are vital to the UK's world leading research reputation
Dr Erika Hughes, Senior Lecturer in Drama & Performance, University of Portsmouth
From USA
Dr Hughes is the Academic Lead for Performance at the University of Portsmouth's School of Art, Design and Performance, where she has taught since 2017. Since 2013 she has led The Veterans Project, using theatre and performance to support war veterans who served in conflicts such as Vietnam, Kosovo, Iraq, Afghanistan and The Falklands.
Her work is recognised internationally, with support grants from the US State department and Innovate UK (in collaboration with the Royal Shakespeare Company), and she has held fellowships in Israel, Germany and the United States. She regularly produces articles and reviews in prestigious journals such as the Journal of European Studies, Theatre Journal and Research in Drama Education, and has given keynote addresses at conferences in the US, Poland and Pakistan.
Dr Vallejo-Marin, Faculty of Natural Sciences, University of Stirling
From Mexico
Since 2008, Dr Vallejo-Marin has led an international team of talented academics at the University of Stirling, working on vital research to help food suppliers attempt to overcome the challenges of climate change. His contributions in this field have been recognised as last year he received the Sistema Nacional de Investigadores, a distinction recognising high-quality scientific research for Mexican academics.
Dr Siddartha Khastgir, WMG, University of Warwick
From India
Dr Khastgir came to the UK to take up an internship at the University of Warwick's WMG in 2009. This inspired an interest in applied scientific research and after working in different parts of the world, motivated him to study his PhD at the same university. He is now employed by WMG as Head of Verification and Validation on the testing of connected autonomous vehicles, and is a vital part of the UK Government's Industrial Strategy to have fully autonomous cars on the roads by 2021.
His work has been recognised nationally and internationally: he represents the UK on International Standards (ISO) technical committee, he is a member of the council of the Institution of Mechanical Engineers, he received the prestigious UKRI Future Leaders Fellowship in 2019 and he featured on the Forbes 30 under 30 Europe 2018 list.