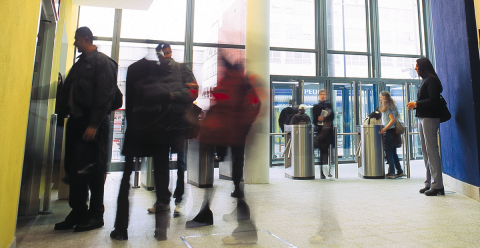 ​New research shows that students and graduates perceive university as providing a broad range of benefits.
​New research shows that students and graduates perceive university as providing a broad range of benefits and that defining the value of university degrees by earnings potential – as the government's analysis of education outcomes currently encourages* – could be seen as a disservice to our students and recent graduates.
Polling by ComRes for Universities UK found that only 1 in 3 (34%) of students and recent graduates say they decided to go to university to get a higher salary than they otherwise would have, and 8 out of 10 (79%) agreed that the government should do more to promote the broader benefits of a degree or university study, irrespective of potential salary.
In the same poll, students and recent graduates say that they decided to go to university for a broad range of reasons, including their interest in their chosen degree subject (56%), enjoying studying and learning (48%) and as a first step in building a career (50%). 84% agreed that their future salary was not the only factor they considered when deciding to go to university.
Students and graduates recognise that going to university broadens their horizons, with 86% of those surveyed agreeing that they have met people from diverse backgrounds and with different views to them at university. This suggests that university could play an important role in social cohesion in communities in the UK.
Future earnings is not the top motivation for choosing a career either, with those surveyed citing work-life balance as their top consideration (53%), with the opportunity to take on a variety of interesting work (39%) coming a close third to earning potential and financial benefits (42%).
The poll also reveals the following skills, facilities and other assets which students benefit from at university, including:
developing skills such as time management, social skills and teamwork
access to academic tutors and experts and libraries
improving levels of confidence and becoming more independent
making new friends and developing beneficial social networks
awareness of social issues and debates
The findings also suggest a need for greater investment in student information – from better careers advice in schools and colleges, through to clearer, more accessible financial guidance.
Students and recent graduates said the top three areas they wish they had known more about before applying to university included:
better career information to help in their choice of subject (39%)
career experiences – not just salaries – of past graduates in their subject and institution (38%)
information on the cost of living while studying (37%)
Overall, students and recent graduates are positive about the benefits of university for themselves, others and wider society. 84% would recommend university to others as a worthwhile experience. 86% said university had given them the opportunity to think about what they want to achieve in the future and the same proportion said that university had helped them learn to be independent.
Professor Julia Buckingham, President of Universities UK and Vice-Chancellor of Brunel University London, said: "These results tell us loudly and clearly that policy makers and politicians have got it wrong when it comes to understanding what motivates today's students and graduates. Students do not judge the value of universities on their future salaries and neither should policymakers. We should all be asking ourselves if we really want to live in a culture that identifies success by salary alone.
"It is time to listen and take notice of what students, graduates and society really value about the university experience and consider how we can ensure prospective students have access to the information they want to inform their future decisions. Only then can we ensure that universities are valued by all."
Nicola Marsh, Head of Social & Political Research at ComRes, said: "Our research demonstrates that university students and graduates recognise value in the range of benefits gained from attending university, including building independence and confidence, exposure to new experiences, and enjoyment of learning. Future earning potential is amongst the benefits considered by students and graduates, but it is not the most important. Quality of life – for example, work/life balance – is the top priority for students and recent graduates when considering what they look for in a career, suggesting that they take a more holistic approach to their careers."
Notes
ComRes interviewed 2,280 people online between 20 August and 2 September 2019: 767 undergraduate students and 1,513 people who graduated in the last 5-10 years. Data tables are available on the ComRes website.
The results will be presented at UUK's conference: UK universities in a changing world, held at the University of Birmingham on Thursday 12 September 2019.
*This point refers to Longitudinal Education Outcomes (LEO) data. UUK's parliamentary briefing on the uses and limits of LEO data is available on our website.
Universities UK is the collective voice of 136 universities in England, Scotland, Wales and Northern Ireland. Its mission is to create the conditions for UK universities to be the best in the world; maximising their positive impact locally, nationally and globally. Universities UK acts on behalf of universities, represented by their heads of institution. 
ComRes is an independent polling and research agency and is a member of the British Polling Council.