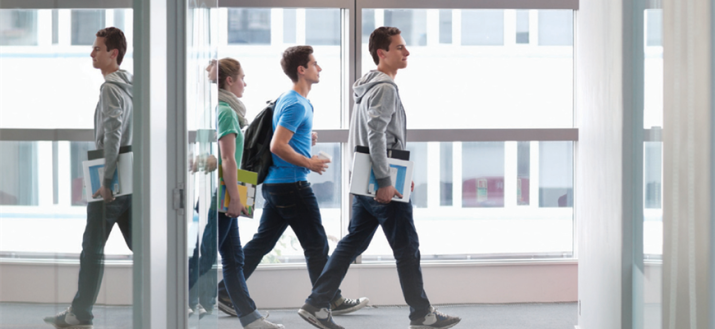 ​Speaking on the confirmation that no further students can return for in-person activities until at least 17 May 2021, Professor Julia Buckingham, President, Universities UK said:
"This is hugely disappointing news for all those students in England who have been learning online since December, and comes at a crucial time in the academic year when in-person support from tutors and friends is highly valued by students ahead of their end-of-year exams.
"We know that many are desperate to return to use facilities and take part in covid-safe in-person teaching, learning and other activities – which the government has previously recognised as essential to their mental health and wellbeing.
"Universities have proven that the safety measures put in place – including regular asymptomatic testing, additional cleaning, support for self-isolating students and adherence to guidance on ventilation and face coverings – are enabling effective management of the virus on campuses, with minimal infection rates in face-to-face teaching settings and limited onward transmission to local communities.
"With schools, colleges and many businesses open, we now need the government to urgently explain how it reached this decision so that universities can communicate with their students and continue preparing to maximise opportunities for in-person activities from 17 May."
Notes to editors
Universities UK (UUK) is the collective voice of 140 universities in England, Scotland, Wales and Northern Ireland. Its mission is to create the conditions for UK universities to be the best in the world; maximising their positive impact locally, nationally and globally. Universities UK acts on behalf of universities, represented by their heads of institution. 
Universities in England will shortly be in touch with students with specific information on how the latest government guidance will affect them. 

UUK estimates that as many as 50% of the 2.1 million higher education students in England are still being taught fully online, either in their normal term-time accommodation or at home, with no access to university-provided in-person learning, activities, or support.

 

Universities have been working hard to prepare for the summer term for all students with plans including blended teaching and learning, opportunities to use library, computing and studio spaces, on-campus sport, graduate support bootcamps, and creative use of outdoor space – in accordance with government guidance – to encourage group work and social interaction. 

 

Term dates will vary, and so individual students should wait to hear more from their university, but UUK's work looking at plans for the summer term suggests that 

the majority of

 universities have plans for programmes, activities and extended opening of some facilities which will be available and of benefit to students even if they are unable to return until May. For this reason, we need government to give a clearer indication about plans for the return of all students in the summer term. 

 

Recent data published by the Office for National Statistics (ONS) revealed that almost two-thirds of students have experienced a decline in their mental health this academic year, and that students' life satisfaction during the pandemic remains far below the national adult average. Universities UK has called for targeted government support for student mental health.

 

Previous 

data

 published by the ONS shows that infection rates of higher education teaching professionals are low compared to people working in other education settings. This follows prior research which revealed there is minimal evidence of Covid-19 transmission in face-to-face learning environments at universities, such as classrooms.

 

A recent Sutton Trust report on Covid-19 and the university experience showed that participation in extra-curricular activities this academic year is substantially down on normal. 39% of students reported taking part in student societies or sport in the autumn term, and this has fallen further since Christmas to just 30%. Almost half (47%) of students reported taking part in no wider enrichment activities at all this term, and they are also less likely to have taken part in work experience, paid work, or study abroad opportunities.

 

Universities have prepared a variety of additional activities designed to support final year undergraduates and postgraduate taught students who are graduating this year, including

:

Volunteering projects with local charities and schools

 

On-campus and online employer-led events

 

In-person self-development events, and one-to-one drop in appointments

 

Intensive summer programmes to enable students on practical and practice-based subjects to spend more hours using specialist equipment and 

facilities

 

 

 Universities continue to make significant investments in student and staff safety including updated risk assessments, Covid-secure measures, enhanced testing, and lessons learned from the autumn. Measures include:

adherence to mandatory social distancing
continuation of blended learning even upon return (lectures remain online, in-person activities minimised, numbers using facilities such as libraries are controlled)
reduced numbers on campus and using facilities
increased hygiene measures across the university estate – teaching and learning spaces and in accommodation including enhanced cleaning and sanitisation stations
assessment of adequate ventilation in accordance with guidance
mandatory face coverings in all indoor public spaces in accordance with guidance
regular review of risk assessments and a risk-based approach