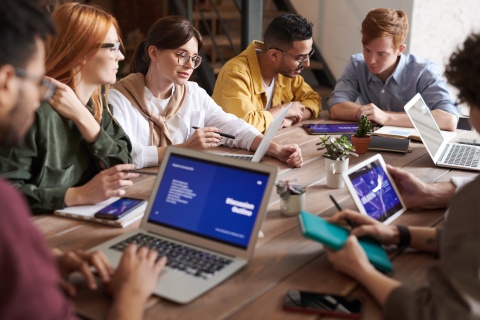 ​University graduates start 4,000 new businesses and are responsible for supporting tens of thousands of jobs every year.
The latest statistics from the Higher Education Statistics Agency (HESA) show the number of spin-offs and start-up companies launched by students graduating from university between 2015 and 2019 are at record levels.
A company was started, on average, every two hours over the last five years at UK universities. There were almost 30,000 employees at active companies started by graduates in 2018/19, a rise of more than 30% from 2014/15, and the income generated at graduate start-ups in 2018/19 was more than £1 billion, an increase of more than a quarter from the previous year and almost double that of five years ago.
Graduate businesses also remain an attractive proposition to backers, with their start-ups receiving more than £1.1 billion in external investment since 2014/15, including almost £350 million in 2018/19.
On National Graduates Day (Thursday, July 30), universities marked the achievements of this year's students including those who have launched businesses. Examples of new businesses started by university graduates include;
Livia's – the company, which was started by University College London student Olivia Wollenburg following her diagnosis with severe food intolerances, offers all-natural, vegan, gluten and dairy free treats which are available nationwide in supermarkets. The company now employs 15 people and has an annual turnover of more than £1 million.

Chefiesta – Chukwudi Ononye launched his business having taken part in Aston University's Apollo Programme in 2018. Chefiesta is providing free meals to frontline NHS teams during the Covid-19 pandemic.

Beryl – Emily Brooke studied Product Design with Professional Experience at the University of Brighton and used the success of her company to launch the Laserlight, while she was studying. The innovative device projects a symbol of a bike on to the road a distance ahead of a cyclist to alert road users to the cyclist's presence, and is used for London bike rental scheme Santander Cycles. It is on sale in 50 countries and generates sales of more than £1 million a year, with growing interest in the business as a result of Covid-19 and people looking for alternatives to public transport. Emily was recently awarded an MBE in this year's Queen's Birthday Honours.

Fat Panda – University of Huddersfield graduates Nic Flatt, Stacey Powers and Sam Craggs set up the creative multimedia production company after being commissioned to create promotional films, animation and stills photography. A proportion of company profits are reinvested to support local charities and, whenever possible, they employ creative students and graduates to help with their work, providing real-life experience and increasing employability skills.

Drink Baotic – the African super fruit firm was started by Glasgow Caledonian University graduate Isatou Njai, along with partner Paul Blackler to support African community development. The company has won and been nominated for awards including the Great British Entrepreneur Awards and the Scottish SME Awards.

The Blair Academy – Charlie Blair, who studied Dance: Urban Practice at the University of East London, began her hip-hop dance company to help disengaged people overcome loneliness and to improve their wellbeing.
Despite the changing jobs market caused as a result of the pandemic, a number of well-known brands have started during financial recessions. Businesses such as food delivery services and online sales services are thriving in the current climate and start-up loans are available to the next generation of businesspeople.
Universities are working with local businesses to stimulate growth in local economies and helping create jobs, through the creation of University Enterprise Zones (UEZ's). Each of the projects has their own focus, ranging from aerospace and smart energy to the development of Artificial Intelligence.
Nic Flatt, Managing Director of Fat Panda and graduate of the University of Huddersfield, said: "As a working class kid from Milton Keynes, I had no big dreams of running my own business before university but it was there that I met people who not only shaped my career but every aspect of my life. The University of Huddersfield's Enterprise team provided me with the knowledge, advice and financial support that gave me the freedom to turn my crazy idea into an established agency.
"I cannot stress how instrumental my uni experience was in helping me realise that an 'unconventional' career was perhaps more within reach that I thought. Universities are microcosms of creative talent and opportunity and they spark a curiosity and thirst for knowledge that never leaves you, whether you end up working for yourself or for someone else."
Alistair Jarvis, Chief Executive at Universities UK, said: "Some of the most exciting and innovative businesses in the country have been created by UK university graduates, using the knowledge, skills and contacts that they have developed during their studies and often with the support and encouragement of their university.
"While many graduates go on to join existing businesses, the fact that on average 12 businesses are born every single day at British universities is a testament to the drive and creativity of students and evidence that you do not have to wait to complete your studies to kickstart your career. Our communities and our economy need these entrepreneurs now more than ever as we recover from the effects of the pandemic.
"In a difficult job market, universities are committed to supporting students to help them become the next generation of entrepreneurs, working with local businesses to raise aspirations and to help support communities."
Notes to editors
The latest HESA statistics on graduate start-ups and spin-offs can be found on the HESA website.
To calculate the number of graduate start-ups per hour, the average number of graduate start-ups in the last five years (20,039) was divided by the number of hours in a year (8760).
In the last five years, graduate start-ups have turned over an estimated £3.6 billion in total.
In 2018/19, there were 250 new graduate start-ups at the Royal College of Art, 229 at Kingston University and 197 at Falmouth University.
Graduate start-ups at the University of Portsmouth saw an annual turnover of more than £120 million, followed by the University of Northumbria (£84 million) and the University of Nottingham (£83 million).
Those companies which are part-owned by universities have an annual turnover of more than £1.4 billion
Universities across the UK continue to invest in local business incubators and accelerators, which increase the growth and efficiency of companies.
Universities UK is the collective voice of 137 universities in England, Scotland, Wales and Northern Ireland. Its mission is to create the conditions for UK universities to be the best in the world; maximising their positive impact locally, nationally and globally. Universities UK acts on behalf of universities, represented by their heads of institution. Visit: www.universitiesuk.ac.uk