The state of relationship: UK and Brazil
Last updated on Thursday 11 Nov 2021 at 1:15pm
Universities UK International (UUKi) has today launched a report on UK higher education engagement with Brazil.
At UUKi we continually try to better understand engagement between UK universities and regions around the world. This helps to provide focus to our work, ensuring that we are meeting the needs of the sector and our members, and helps us to identify new opportunities and challenges. As part of this work, UUKi has published a number of 'State of the Relationship' reports - and we are excited to launch a new report tracking the current state of engagement between the UK and Brazil in higher education and research, including policy priorities, key enablers, and challenges to growing engagement. 
We are pleased to be able to show that the UK and Brazilian higher education systems continue to have a strong, well established relationship – and there is commitment to enhancing collaboration on both sides.
The report seeks to provide our members with a better understanding of:
  The present UK-Brazil relationship in higher education and research
  The UK sector's current and expected priorities in Brazil
  An awareness of gaps in current engagement and potential opportunities
Our report draws on a wide range of publicly available data, and primary research with 46 institutions – including 37 that have been awarded funding by CAPES to support the internationalisation of Brazilian higher education.
Highlights of the report 
Mobility 
52% of surveyed UK HEIs offer scholarships to Brazilian students
310 UK students spent time in Brazil as part of their degree in 2017-2018
Even though the mobility flow of Brazilian students has been affected by reductions in the level of Brazilian government funding available, UK universities are committed to supporting Brazilian students to access a UK higher education through scholarships, discounts and fee waivers – while the numbers of UK students going to Brazil as part of their UK degree are increasing.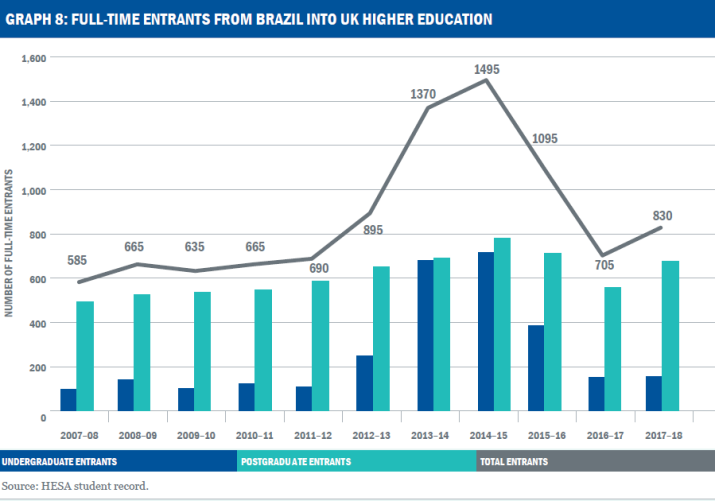 Research collaboration
Brazil leads the South American region in terms of research collaboration with the UK
Between 2015-2018, there were more than 13,000 UK-Brazil co-authored publications - with a growth of 31,5% over the period
76% of UK HEIs surveyed highlighted collaborative research funding opportunities as a key enabler for their engagement with Brazil
Even though there is a limited awareness of funding for collaboration among institutions in the UK and Brazil, the importance of key mechanisms – including the Newton Fund, the Global Challenges Research Fund, and the Brazilian government's CAPES PrInt programme – is widely recognised. Moreover, there is good awareness of various sources under CNPq schemes, an organisation of the Brazilian federal government under the Ministry of Science and Technology.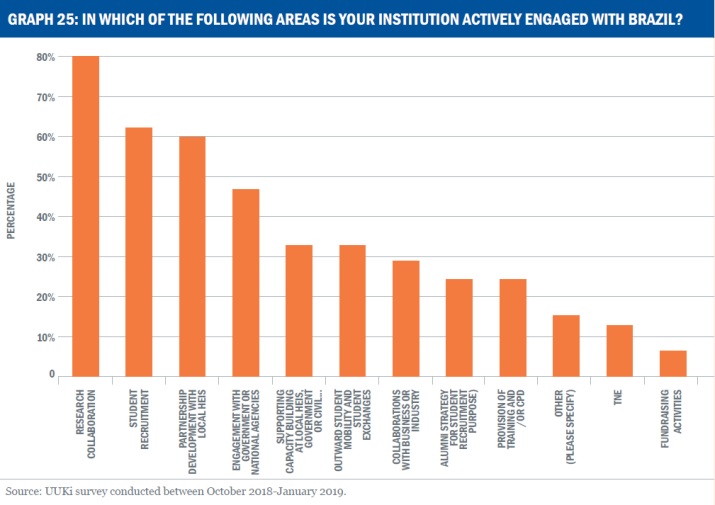 Engagement and awareness 
38% of the respondents are already participating in the CAPES PrInt programme with a further 14% considering future participation.
Despite the volatile political context and a recent change in Brazilian higher education public policy, there is a high level of engagement, a strong commitment to Brazilian students and awareness among UK institutions of the recent government programme in Brazil.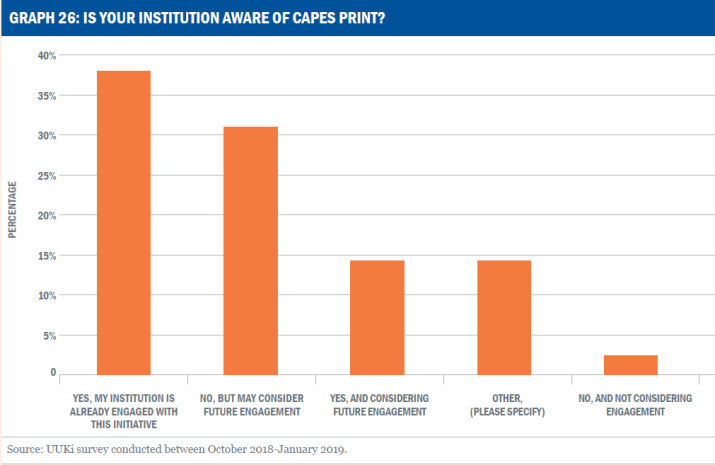 UUKi's work with Brazil
From 2012 to 2016, UUKi managed the UK arm of the Brazilian Government's scholarship programme "Ciencia Sem Fronteiras" (Science Without Borders). Over the course of a four-year programme cycle, UUKi placed over 11,000 Brazilian undergraduate students on courses at UK universities, supported over 600 PhD candidates to secure a UK host institution and supervisor, and responded to over 70,000 email queries from both scholars and potential applicants.
 
Due to political and economic instability, the programme was effectively suspended in 2015. In 2018, CAPES launched a new strategy based on an "internationalisation at home" approach, CAPES PrInt.
 
UUKi's engagement with Brazil has more recently centered on supporting mutually beneficial partnerships in areas such as collaborative research, student and staff exchange programmes, joint funding applications and capacity building. Following the announcement of a new Brazilian public policy for the internationalisation of higher education, we have also been involved in disseminating information and advice to UK institutions about how they can get involved in Brazil's new government-funded scheme for international higher education and research collaboration.
 
Both the UK and Brazil have experienced challenges in recent years – but our report demonstrates the deep and beneficial nature of links in higher education and research, and the desire of our universities to do more together.
You can find the full report here.
Case studies which provide further insight into the experiences of individual institutions can be found here.
Fernanda Massaccesi is Policy Officer, Americas at Universities UK International.