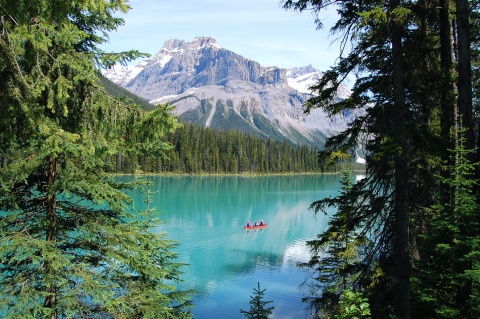 Despite the disruption to physical mobility and international collaboration opportunities caused by the Covid-19 pandemic, UUKi and Mitacs continue to demonstrate a commitment to UK-Canada collaboration. The organisations have renewed their partnership for the coming year, which will provide 60 research intensive internships in Canada for UK students.
Since 2019, the Universities UK International (UUKi)-Mitacs partnership has given UK students the opportunity to participate in a UK-Canada mobility scheme via the Mitacs Globalink Research Internship programme. Though in 2020 the Covid-19 pandemic prevented 20 internships from taking place, in 2021, 50 UK students are currently collaborating with Canadian professors on projects ranging from quantum materials to the impact of social distancing on health care provision via virtual internships.
Mitacs's Globalink Research Internship programme enables UK undergraduate students from all academic disciplines and backgrounds in their penultimate year of study to take part in a 12-week research internship at one of over 70 universities across Canada.
The programme offers successful students the opportunity to develop collaborative research skills, in addition to making professional development opportunities accessible to those from all backgrounds, with 15 students from the 2020-21 cohort coming from widening participation backgrounds and underrepresented groups.
Beyond the benefits for participants, the scheme encourages the exchange of research knowledge and innovation between UK and Canadian institutions – reaffirming and strengthening the UK-Canada bilateral relationship at a time when rebuilding capacity for international exchange is crucial.
With additional benefits such as attendance at industry events, mentoring and social activities, the internships will provide UK students a competitive academic experience in Canada whilst gaining valuable professional skills.
Mitacs has committed to continuing to prioritise international research collaboration and mobility opportunities and has increased the number of places available on the programme to UK-based students from 40 to 60 for the 2021-22 iteration of the scheme, in response to increasing levels of interest and investment in the programme from the Canadian Government and the UK higher education sector.
UK universities are currently being invited by UUKi to submit expressions of interest to co-fund up to 60 places for students to participate in the 2021-22 programme, with internships commencing in summer 2022. The programme will operate on a co-funded model, with two thirds to be funded by Mitacs and the remaining third to be funded by sending UK institutions.
Expressions of interest are now closed.
Interested universities can contact Sophie Da Silva, Partnerships Officer at UUKi, for further information: sophie.dasilva@international.ac.uk
Dr John Hepburn, CEO and Scientific Director of Mitacs, comments:
'Mitacs is very pleased to renew and advance our partnership with UUKi. We are delighted to welcome 50 students from the United Kingdom via virtual internships this summer. Collaborating with Canadian professors on research projects ranging from quantum materials to the impact of social distancing, these international summer exchange internships will help develop global solutions to the challenges that face our world.'
Vivienne Stern, Director, UUKi comments:
'UUKi is proud to be able to further advance its partnership with Mitacs at a time when the need for international collaboration has hardly been more keenly felt than it is now. We are delighted to be able to continue supporting UK-based undergraduate students to foster global networks at a crucial time in their burgeoning careers, as well as to provide opportunities for aspiring researchers to contribute to tackling some of the world's most pressing challenges. We look forward to working with Mitacs to support UK sending universities to further develop their knowledge networks, and to building stronger academic ties between our two countries.'
ENDS  
About Universities UK International
Universities UK International (UUKi) represents UK higher education institutions (HEIs) globally and helps them flourish internationally. To do this we actively promote UK HEIs abroad, provide trusted information for and about them, and create new opportunities through our unique ability to act at sector level. We draw on UK university expertise to influence policy in the UK and overseas, delivering information, advice and guidance to facilitate mutually beneficial collaboration between UK HEIs and a broad range of international partners. 
https://www.universitiesuk.ac.uk/universities-uk-international @UUKIntl
About Mitacs
Mitacs is a not-for-profit organization that fosters growth and innovation in Canada by solving business challenges with research solutions from academic institutions. Mitacs is funded by the Government of Canada, provincial governments, academic institutions, and industry partners. mitacs.ca @MitacsCanada