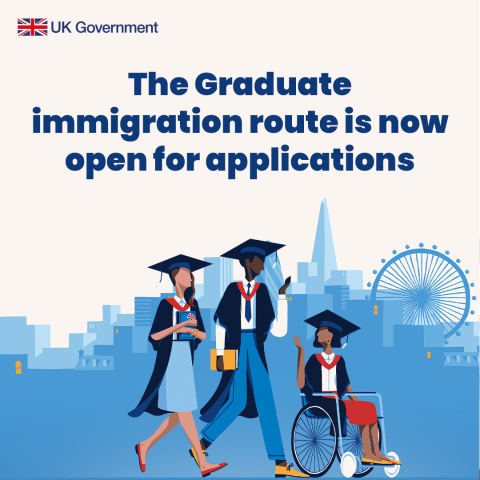 From 1 July 2021, all international students who successfully complete a UK degree course will be able to remain in the UK for up to 2 years to work, and for up to 3 years with a PhD via the UK's Graduate Route.
​The UK Government has developed this post-study work route, to give international graduates from UK degree programmes the opportunity to stay in the UK to develop their future career and skills.
The Graduate route is open to students who successfully complete a bachelor's, master's or doctoral degree, and who comply with all UK immigration requirements. This is open to students studying in England, Wales, Scotland and Northern Ireland. Students will not need a job offer in order to apply for the Graduate Route and there will be no minimum salary requirements for any employment they find.
Universities Minister, Michelle Donelan said: "International students are a vital part of our society, and those who graduate from our world-leading universities should have the opportunity to stay and build meaningful careers here, in the UK. That is why we are introducing this new route for international graduates, enabling British businesses to attract and retain some of the brightest, most talented graduates across the globe, and helping this nation build back better from the pandemic."
Students will normally be expected to undertake their studies in the UK to be eligible for the Graduate Route, however the UK has introduced flexibility around the way international students can begin their studies in light of the Covid-19 pandemic. These options may include starting online and travelling later, coming as planned and being supported through any mandatory quarantine period, and options for later start dates.
This means that if students are commencing a new course by distance learning or choosing to start online and travel later due to Covid-19, they will still be eligible to switch into the Graduate route – provided they arrive in the UK either before their visa ends or by 6 April 2022. This also applies to students who are continuing their studies via distance or blended learning. Those students who began a course of 12 months or less in 2020 or 2021 via distance learning and who have not previously entered the UK will, however, still need to enter the UK before their visa expires or by 27 September 2021, whichever is sooner, to remain eligible.
Recent research by IDP Connect with international students who began their studies in the UK, Canada, Australia, USA or New Zealand in Autumn 2020, shows that the UK is ahead of other destinations in offering international students such flexibility.
Vivienne Stern, Director of Universities UK International (UUKi) said: "The Graduate route is a real opportunity for international students to make the most of their UK degree and gain valued experience working in a UK based organisation, making them more employable in the future. Along with the flexibility the UK offers around how students wish to begin their UK experience, these are really welcoming policies, developed to make the UK as attractive as possible to international students. We want you to choose the UK."
Students can make use of their university careers service to advise on how to apply for graduate jobs, and also the kind of skills employers will be looking for.
The University of East Anglia in the UK provides employability support for international students throughout their time at university. Jen Lloyd from their Careers Service says: "In addition to core services like individual careers guidance and advice from our team of experts; employability skills workshops; employer-led events and the UEA Award scheme, we have also created tailored support specially designed for the needs of International students. These include a dedicated annual event called 'Working in the UK' which features International UEA alumni providing advice on how to find UK work supported by professional lawyers explaining visa requirements and processes."
Universities can also support students to find graduate placements. Jimmet Romen Shah studied Business and Management at Sussex University, and commented: "The university pushed us to apply (for a placement) in a really good way. The business school offered a lot of support in terms of one-to-one sessions with their Careers and Employability Office or sessions with current placement students. Finally, one day I received a call with a job offer and I was so happy."
The advantage of studying in the UK is that graduates will leave with a world class degree, which will help them find rewarding careers not just in the UK but also in other countries around the world. Many of the skills UK university students will gain during their studies will also prepare them for entrepreneur opportunities with many students going on to begin successful start-up companies.
For more information on the Graduate route, you can access a Graduate Route Guide on the UK Government website or the Study UK website.
ENDS
Notes
1. Universities UK International (UUKi) represents more than 140 UK higher education institutions (HEIs) globally and helps them flourish internationally. To do this we actively promote UK HEIs abroad, provide trusted information for and about them, and create new opportunities through our unique ability to act at sector level. We draw on UK university expertise to influence policy in the UK and overseas, delivering information, advice and guidance to facilitate mutually beneficial collaboration between UK HEIs and a broad range of international partners. For more information visit: https://www.universitiesuk.ac.uk/international