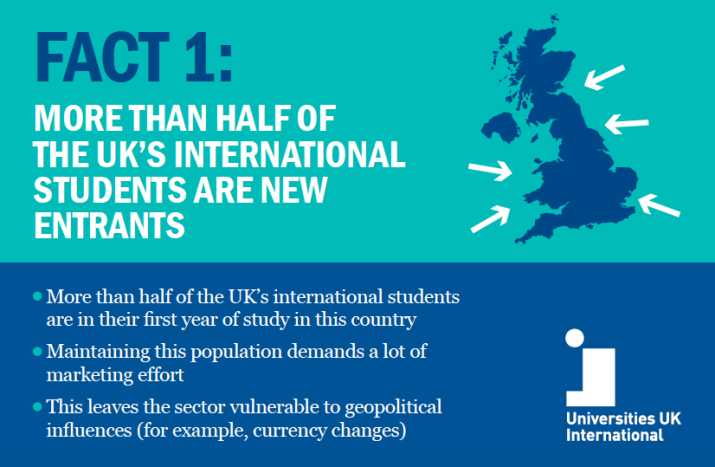 Universities UK International (UUKi) has published a new report, Five little-known facts about international student mobility to the UK.
The report reveals facts about international students coming to the UK that have previously received very little attention. The five facts are:
Fact 1: More than half the UK's international students are new entrants
More than half of the UK's international students are in their first year of study in this country. This means maintaining this population demands a lot of marketing effort. Therefore, the sector is vulnerable to geopolitical influences (for example, currency changes).
Fact 2: The UK's international postgraduate population is smaller than that of the US, but our annual intake is higher
The UK has the second highest number of MSc and PhD students of any OECD country (after the US) but numbers have been static for some time. The US hosts 391,000 postgraduate students - twice as many as the UK. However, postgraduate degrees in the US are longer so more postgraduate students start their degrees in the UK each year than in the US.
Fact 3: Countries offering more work opportunities for international students after graduation see higher international student enrolment
International students value opportunities to get work experience as part of their education. The UK's post-study work options are less clearly presented than its competitors and more limited.
Fact 4: Demand from international students to do postgraduate research at UK universities is uncertain
International postgraduate research students help maintain the UK's world-leading research outputs. Recently, there has been a decline in the number of newly enrolled international full-time postgraduate research students which is a cause for concern. Communicating the UK's commitment to research and international engagement is vital to attract international postgraduate researchers and their funders.
Fact 5: There are more international students studying for a UK degree outside the UK than in the country
UK universities have created new ways for international students to study for degrees by offering courses online, in collaboration with other institutions or by setting up a campus overseas. This is known as transnational education (TNE). Over 60% of all international students on UK higher education programmes are studying outside the UK through TNE. Economically, TNE can't replace international students coming to the UK, as the impact on export earning is smaller. However, there's a clear link between studying for a UK degree overseas and becoming an international student in the UK.
The report was written by Janet Ilieva, Founder and Director of Education Insight.
Director of UUKi, Vivienne Stern said: "International students bring vitality and diversity to our campuses and we hugely value the contribution they make to our institutions. The facts in this report are enlightening and indicate the need for a government-led international education strategy that can help the sector create an environment that attracts and retains talented international students."