This briefing outlines new figures for 2014–15 on the economic impact of international students studying in the UK.
The research was conducted for Universities UK by Oxford Economics. It highlights the important contribution that international students make to both national GDP and export earnings. It sets out data that shows the jobs generated by international students at a regional level and the income they provide local businesses.
This data is part of a larger study analysing the economic impact of UK universities and of international students to be published in spring 2017. Unless otherwise stated, reference to international students in this briefing includes both EU and non-EU students.
 
In 2014–15:
On- and off-campus spending by international students and their visitors generated £25.8 billion in gross output for the UK economy.
This activity contributed £13.8 billion gross value added (GVA) to UK GDP.
On- and off-campus spending by international students and their visitors supports jobs all over Britain, supporting 206,600 full-time equivalent (FTE) jobs nationally.
International students are good for the British economy as a whole, being responsible for £10.8 billion of UK export earnings.
Spending by international students outside of university fees and accommodation (ie 'off-campus' spending) amounted to £5.4 billion.
International students also boost other British industries, for example adding £750 million to the UK transport industry and £690 million to the retail industry.
The economic activity and employment sustained by international students' off-campus spending generated £1 billion in tax revenues. This is the equivalent to the salaries of 31,700 nurses or 25,000 police officers.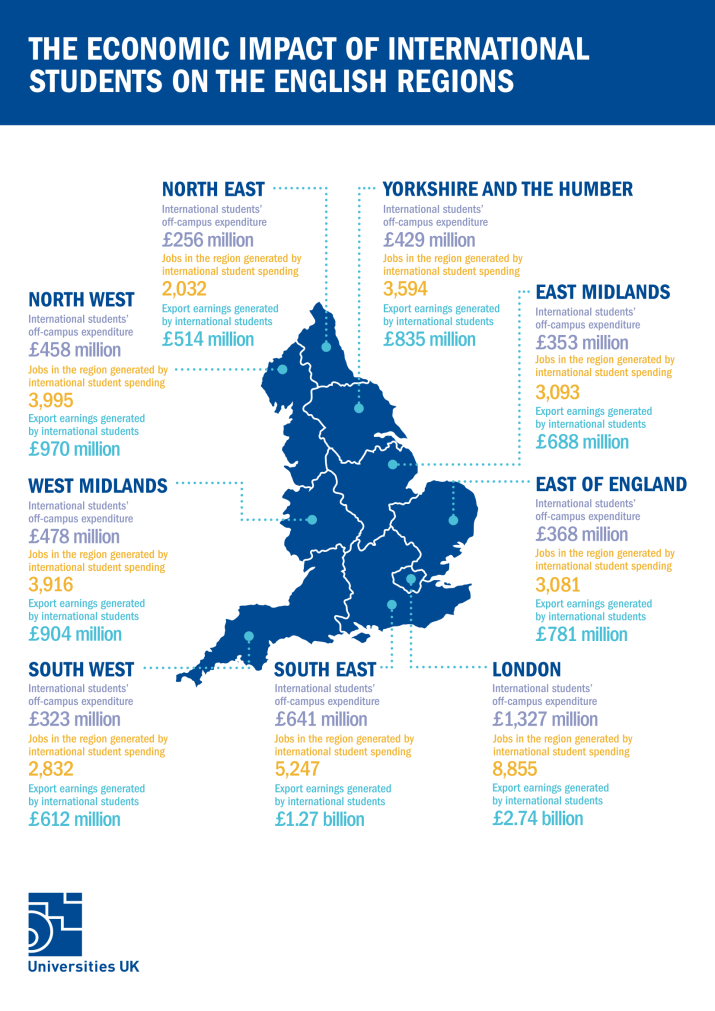 The economic impact of international students on the English regions
This briefing also presents some of the key figures on the impact of international students at a UK and regional level for the nine regions of England.
This impact is particularly significant in the context of the government's Industrial Strategy and objectives to sustain and grow regional economies.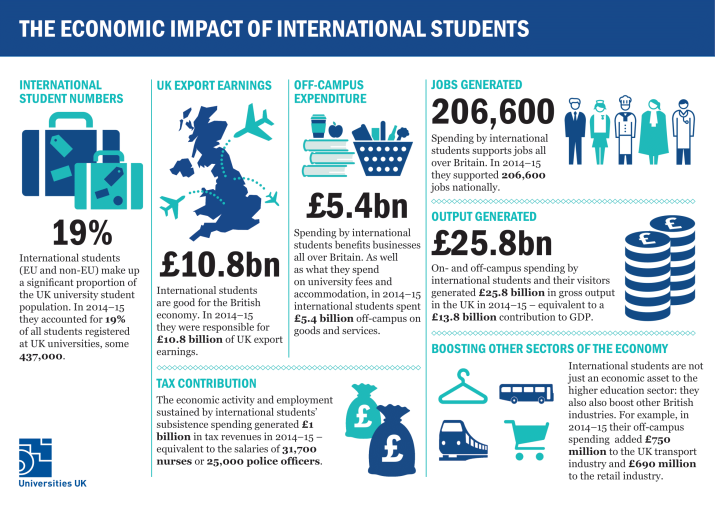 Summary infographic: the economic impact of international students
This infographic summarises the key figures from the new research, including international students' contribution to UK export earnings, other sectors of the economy, and local jobs and businesses.