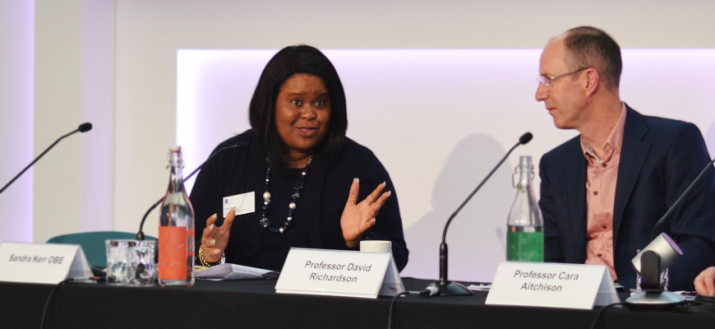 In an ideal world, our universities, our campuses and our wider communities would all be enlightened, tolerant and accepting places where racism is a thing of the past.
But we don't live in an ideal world, and racial harassment remains a problem for students and staff across the UK. Pretending otherwise serves us ill. Racism remains an ugly truth in our society, and on our campuses, as the Equality and Human Rights Commission's report in October 2019 showed.
We need to recognise that harassment is the visible face of wider and deep-rooted issues encompassing unconscious bias, micro-aggressions and a lack of understanding of different experiences and histories. As the very foundations of our higher education sector were built on white culture, this wider picture is not something we can quickly solve.
But that doesn't mean we should shy away from taking responsibility to better address the racial harassment experienced by university staff and students. As the Vice-Chancellor of the University of East Anglia (UEA) and one of the original members of the Universities UK Changing the Culture taskforce, I know we still have much to do.
This is why I spoke at UUK's annual Tackling violence, harassment and hate crime conference, where I was delighted to be joined by Sandra Kerr, the Race Equality Director at Business in the Community, and one of three independent expert advisors supporting the work of our group. Her information and thought-provoking insights will greatly strengthen the work of the group, alongside our other advisors Dr Tony Sewell CBE, the CEO of the charity Generating Genius and Jatin Haria, Executive Director at the Coalition for Racial Equality and Rights in Scotland.
As a white vice-chancellor, I recognise the limitations of my own understanding in leading this work.

That is why we formed the group with a commitment to hear from those with lived experience. Our advisory group members are majority Black, Asian and minority ethnic (BAME), and we also have students and staff panels, both of which have 100% BAME representation and are helping us to understand and incorporate different perspectives.
The recommendations set out by UUK in the 2016 Changing the culture report on all forms of harassment were a positive start, but we need to go further. Students at my own university rightly argue that racial harassment needs greater focus from university leaders. I hear that and I am committed to doing so.
We must do everything we can to provide leadership, set clear cultural expectations, and take action to eradicate hate. 
Our conversations and work so far show that feeling included and having a shared sense of belonging is central to students and staff being able fulfil their potential.
We will work with university colleagues, the National Union of Students, and unions in the higher education sector, to develop guidance addressing all forms of racial harassment experienced by students and staff. Our aim is to identify effective measures to help universities make increasingly effective interventions to counter racism.
Right across the sector, we need to be continuously working on and looking at this. At UEA, the wider senior management team has already been trained in unconscious bias, resulting in a shared understanding of the biases we all carry to some degree, and that we need to be aware of them to understand how they can be countered.
Our work at UUK will also build on evidence from the Office for Students-funded Catalyst projects that support activities to tackle harassment, and we are also learning from the direct experiences of staff and students as outlined in the Equality and Human Rights Commission report.
While we can't consign racism to the past through a conference or a report alone, we will not let-up in our commitment to take responsibility. We will continue to use every lever we have to ensure that higher education is taking a leading role in showing that racism is unacceptable.
Professor David Richardson is Vice-Chancellor at University of East Anglia