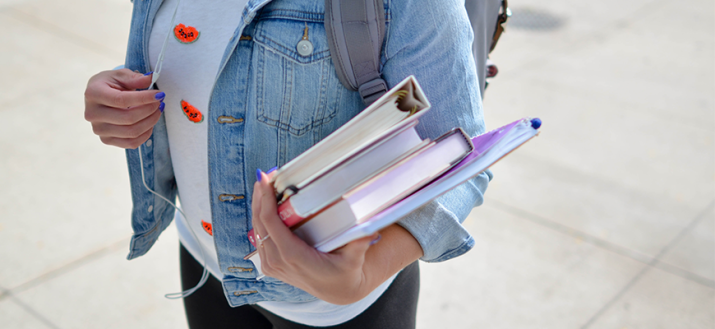 ​After studying more than 16,000 student reviews, Paul Humphreys, Founder and CEO at StudentCrowd, looks at how students have been experiencing university this year.
There has been a lot of press coverage over the past year about the student experience during Covid-19, and at StudentCrowd, we wanted to find out more about how students are making sense of this particular time at university.
We analysed our student review data over a 16-month time frame, starting from the first semester of 2019. This data was composed of more than 16,000 individual student reviews.
There is no doubt that many students have faced significant difficulties throughout Covid-19, with respondents reporting financial hardship and severe strain on their mental health and wellbeing.
Yet while our surveys showed a dip in student satisfaction following the first national lockdown in March 2020, they also revealed a rise in overall student satisfaction since the start of the 2020–21 academic year.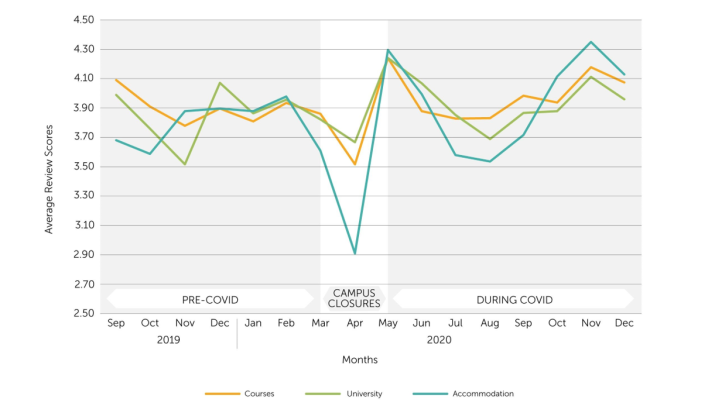 Figure 1 gives the average review scores across three critical areas – university, course and accommodation – from September 2019 to December 2020. Our review data clearly shows three phases in this 16-month time frame:
September 2019 – March 2020: Pre-Covid
April – May 2020: Campus closures and move to online learning
June 2020 – December 2020: During Covid
The sharp dip in average review scores across all three areas in April 2020 gives a clear indication that students' satisfaction was impacted immediately following the first national lockdown and subsequent campus closures.

This initial dip was followed by a rebound in average review scores in May 2020.
This indicates that in a relatively short time frame, students were beginning to adjust to their new normal as online teaching and learning became more familiar and more information began to emerge about teaching, assessments and safety nets, as well as clarity around costs and access to accommodation.
What the data also shows us is that outside of this initial drop and rebound, the pre-Covid and university life during Covid scores are fairly consistent.
In fact, there is no statistically significant difference in average review scores during these two periods, suggesting that students have been able to adjust their expectations of university life in light of the evolving reality of the pandemic.
Courses and accommodation
"[...] I could not thank my personal tutor enough for what she has done to help me, especially regarding changes I've had to make to my uni degree due to Covid-19."
Surprisingly, we have seen an increase in average satisfaction in some areas during the university life during Covid time period – 'personal tutor' saw a 2.6% increase in satisfaction.
Meanwhile, 'value for money' and 'cleaning' of accommodation saw just over a 5.8% increase in ratings.
This possibly reflects a higher proportion of time spent in accommodation last semester as social restrictions limited movement, as well as the efforts made by accommodation providers to ensure spaces were kept clean.
Across all three review areas, accommodation was the most heavily impacted by university closures in April 2020 as it took longer for complex issues like rent rebates and the ability to return to collect possessions to be worked out and communicated.
Conversely, accommodation has possibly fared the best in the university life during Covid time period, with all but one (location, which is inflexible) of the review areas increasing by between 2.01 – 5.89% from the pre-Covid levels.
The 2020 student experience
Although these figures paint a largely positive picture of university life this year, it is important to note that lots of students have been significantly impacted by Covid.
Many are reporting increased strain on their mental health as well as significant financial hardship.
Although universities have worked hard to ensure teaching continued online, nothing can really replicate the benefits of face-to-face interaction, and many students report being overwhelmed by high levels of screen time.
All in all, the full university experience hasn't been possible with the widespread social restrictions.
"Absolutely nothing beats having human contact with others and learning together IN PERSON. I hate waking up to my laptop everyday watching lectures online. It has been incredibly draining mentally [...]."
This data does, however, show that students have, and are able to, make adjustments to their expectations given the context, and many are, in fact, appreciative of the efforts that universities and accommodation providers have made to give them at least some semblance of a university experience.

To find out more about this review data, read our Student Reviews 2020 article.