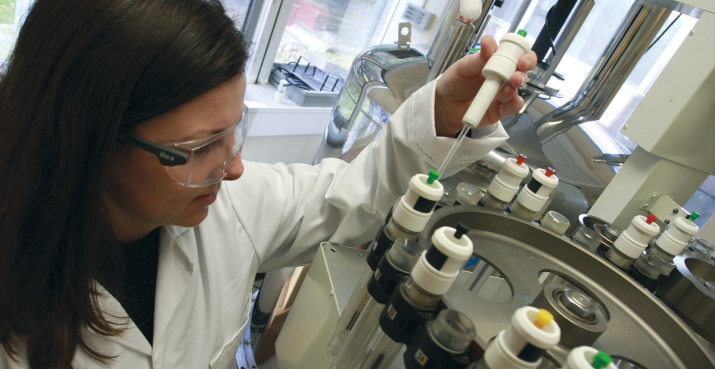 ​When it comes to addressing climate change, the research community has long been outspoken about the importance of sustainability and the role of behaviour change. 
However, as higher education institutions, our practices have not always reflected these values. We know there's scope for improvement, and by putting sustainability at the heart of our research practices we can enable universities to become more efficient, offer better value for money, and make better use of our resources.
Central to this issue is our use of laboratories, which are essential for scientific discovery, learning and innovation. But they also require immense investments of energy and materials, often representing two-thirds of the energy used by a research-focused university. 
A typical laboratory can consume 5 to 10 times more energy per square metre than academic spaces, while a standard freezer at -80C will use as much energy as a house – ­­and a university can have hundreds. Labs are also notorious consumers of plastic, and are estimated to contribute just under 2% of the world's plastic waste. With their significant impacts and the growing climate emergency, laboratories must be included in the sustainability conversation.
Laboratory Efficiency Assessment Framework
That's why UCL has developed the Laboratory Efficiency Assessment Framework, or LEAF – a new independent standard which is enabling science laboratories to improve their sustainability and efficiency. It was piloted during the 2018–19 academic year and is being relaunched in October 2019 for a second year.
LEAF provides a defined sustainability standard for laboratories by recommending actions that lab users can take to reduce waste, energy, plastics and water in the lab. Participants are then awarded Bronze, Silver or Gold depending on their performance. One of the key features of LEAF is that it allows users to quantify both financial and carbon savings, so they can see firsthand how much of a difference their actions make. The standard is applicable to individual laboratories or entire institutes, and can be used by technical staff, lab management, researchers and students.  
Another key feature is its inclusion of criteria pertaining to the reproducibility of science. The logic here is that if you can't reproduce an experiment, what was the point of using the materials and resources you did? In recognition of this LEAF contains criteria that focus on reproducibility and research quality. This has led to support from the newly formed UK Reproducibility Network (UKRN) to further develop these criteria.
The first-year pilot received over 100 submissions from 16 universities, including Bristol, Cambridge, Edinburgh, Imperial and King's College London and Glasgow. 74% of users reported that LEAF drove new improvements (not just a verification of previous practices), while across the institutions users estimated they saved £400,000 from taking part. Savings came from a combination of energy, waste, and savings on equipment and consumables. Importantly, 98% of users indicated they wanted to participate in the programme again.
For Anna Lewis of Bristol University, who participated in the pilot, the initiative "provides a platform for individual action on sustainability that is integral to any institutional carbon goals, particularly a research-intensive one… it is invaluable for engagement and creates a snowball-effect of positive consequences."
As well as having a direct impact on institution-wide sustainability efforts, LEAF also facilitates technical career development for individuals, by evidencing otherwise unnoticed good practice. For Mukesh Mistry, a technician at King's College London, LEAF "helps quantify and standardise our efforts, which otherwise only a few would recognise". In this regard LEAF helps address at least three key areas of the Technician Commitment, helping to increase recognition and career development, and improving visibility.
The ultimate objective of LEAF is to provide a sustainable science-specific standard and help institutions and the planet reach our long-term environmental goals. As UCL's Dean of Life Science Geraint Rees says, "LEAF is a pragmatic and easy to understand tool that [will] make a real difference to creating a sustainable future for our planet". By doing science in a more resource efficient way, we can afford to do more science, and reduce our environmental impact. 
For Professor David Price, UCL's Vice-Provost Research the initiative is also a valuable opportunity for the higher education sector to demonstrate "how sustainability in research can work in practice" and to "develop solutions that are practical and scalable", and ultimately to promote the value of sustainability to industry and the wider public.
This year LEAF will again be piloted by UCL, along with a greater number of participants. Research institutions may apply to participate for this academic year in a free trial year.