I lead on the creation of content, across all topics and policy areas, for our annual programme of conferences and events and manage all aspects of event delivery and logistics.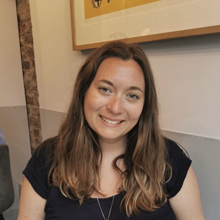 I have been working in various event management and communications roles in both the higher education and charity sector for over eight years. From small music events to international alumni reunions and large-scale graduation ceremonies, I have managed a vast number of events for different stakeholders and purposes.
I enjoy creating space for the sector to come together to discuss pertinent topics that can make a real positive difference to moving policy forward. Prior to joining UUK, I worked across many areas of higher education such as student experience, public engagement, alumni relations and fundraising – so my favourite part of the job is to be able to bring all that knowledge together and work across all policy areas to produce exciting and important events.