Professor Sir Gerry McCormac is the Principal and Vice-Chancellor of the University of Stirling. He took up post in 2010.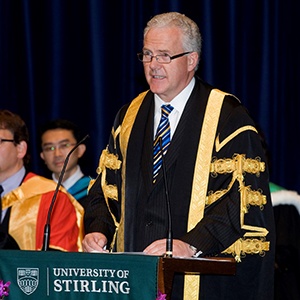 Sir Gerry has a background in space physics and carbon dating. He is Convenor of Universities Scotland and UUK Vice-President (Scotland). He is a fellow of the Royal Society of Edinburgh, a board member of the Universities and Colleges Employers' Association (UCEA), and a council member of the Westminster All-Party Parliamentary Universities Group. 
Like most other leaders in the sector, Sir Gerry's journey into higher education began when his curiosity was sparked as a child, inspiring him to pursue a career in science. Helping to nurture that same curiosity in younger generations is a highlight of Sir Gerry's role as Principal and Vice-Chancellor; working with talented people to create the best possible environment for students to realise their ambitions through high-quality learning and teaching.