Professor Sir Chris Husbands is Vice-Chancellor of Sheffield Hallam University. He took up post in 2016 and leads one of the UK's largest and most diverse universities.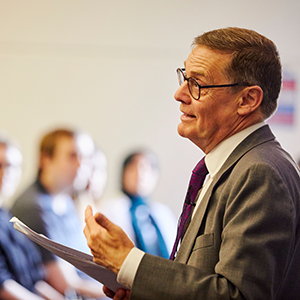 Chris's academic expertise is in global education policy and practice, on which he has written or edited fifteen books. He was Director of the Institute of Education, University of London and was Vice-Provost at UCL. He was the Government appointed inaugural Chair of the Teaching Excellence and Student Outcomes Framework (TEF). Currently, he chairs the Higher Education Statistics Agency (HESA).
This is a fabulous job: leading a diverse, engaged university at the heart of its city and its region, energising a learning community in which all – staff and students – can thrive and succeed.