Professor Shearer West is the first female Vice-Chancellor and President of the University of Nottingham. She took up the post in 2017.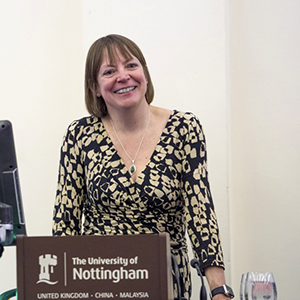 Shearer is a professor of Art History and was Director of Research at the Arts and Humanities Research Council. She is a Trustee of the National Portrait Gallery and Chairs the UUK Audit and Risk Committee. 
I feel uniquely privileged to lead a university that has a global footprint, with campuses in China and Malaysia, and which is also firmly rooted in our local communities in all three countries. The variety of achievements of our students, staff and alumni, and our collective mission to make the world a better place are a constant inspiration.