Professor Nishan Canagarajah is the President and Vice-Chancellor of the University of Leicester. Nishan became Vice-Chancellor in November 2019.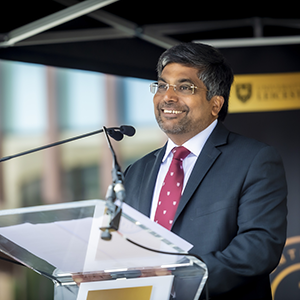 He is Chair of Trustees of the Conversation Trust and a Trustee of Into University, a widening participation charity. Nishan served on national and international research panels and acted a technical consultant to a range of national and multinational organisations.
Previously, he was a member of our advisory group tackling racial harassment in higher education.
I am proud to lead the university into its second century and to build a lasting legacy in keeping with its unique origins – a university that was a living memorial created to change the world for the better. I enjoy working with the university community and our external partners to bring about transformative change which is lasting and inclusive. I love the fact that we can change lives – as mine was – through the power of education.