Professor Liz Barnes is the Vice-Chancellor and Chief Executive of Staffordshire University.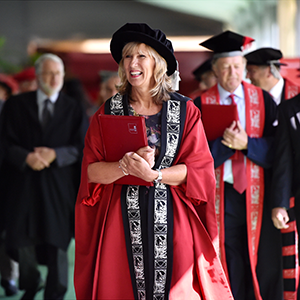 Liz has an academic background in physiology and has worked closely with the NHS. She is a member of four Multi-Academy Trusts in the Staffordshire Region and Co-Chair of the Opportunity Area Partnership Board. She is Deputy Lieutenant of Staffordshire.
Liz started out as a PE and Maths teacher. Her academic career in higher education began as a lecturer in physiology and she has held many positions in four universities over a period of 34 years. Throughout this time Liz has worked closely with employers, in particular with the NHS and with police services. She remains committed to education at every level and is a member of five multi-academy trusts and co-Chairs the Stoke-on-Trent Opportunity area. 
I love the transformational impact that education has on so many lives. I have so much pride in the achievements of our staff and students and the contribution that they make to society.