Professor Elizabeth Treasure is the Vice-Chancellor of Aberystwyth University, where she took up post in 2017.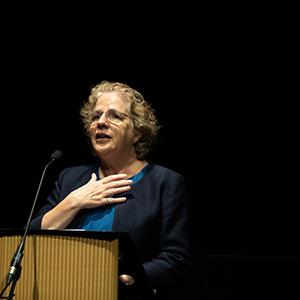 Elizabeth trained in Dental Surgery, specialising in dental public health, and has held  operational and governance roles in the NHS. Her research interests centred around clinical effectiveness and service delivery.  She is Chair of Universities Wales and is therefore the UUK Vice-President (Wales). She is a member of the UCEA Board and has previously been a member of the UCAS board. 
I love living and working in Aberystwyth, a university that is so critically important to its local community, while also seeing the impact of the university far beyond.  I love the variety of the role  No day is the same. I might be visiting farms, looking at community involvement in our arts centre, and of course visiting research or meeting students. For me watching students and staff develop and move on in their lives and careers and being able to create the environment where that can happen that is the key reason I do this job.