Professor Dame Janet Beer is the Vice-Chancellor of the University of Liverpool. She took up the post in February 2015.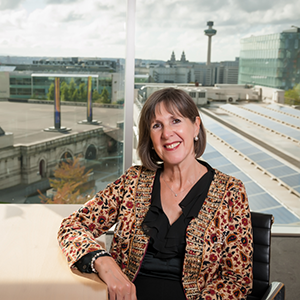 Dame Janet is a past President of UUK and the International Policy Lead on the UUK Board.
She is a member of the Arts and Humanities Research Council and chairs their Assurance Board, a member of the Boards of the N8 Research Partnership and the Russell Group, the Advisory Board of the Government Skills and Curriculum Unit, and the Liverpool City Region Local Partnership. Dame Janet also chairs the Liverpool Knowledge Quarter and the Sciontec Boards and is a member of the Liverpool City Region Local Enterprise Partnership (LEP) Board. 
I love leading an institution with the founding mission for 'advancement of learning and ennoblement of life.' It expresses for me the joy to be found in work that improves human life through education and research.