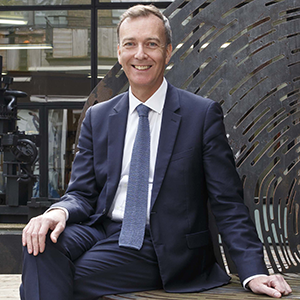 As vice-chancellor of the RCA, Dr Paul Thompson has brought about strategic shifts in the institution's academic vision, introducing scientific members of staff alongside 'traditional' craft-based and fine art practitioners in order to advance a science, technology, engineering and mathematics (STEM) plus Design or 'STEAM' agenda. 
 
He is a former Director of the National Design Museum in New York (part of the Smithsonian Institution) and the UK's Design Museum, and is a Board member of the Creative Industries Federation and currently Chair of its Creative Education & Careers Working Group. He is an Adjunct Professor at the Institute for Global Health Innovation at Imperial College, London; a Trustee of the V&A Museum; and an Executive Committee Member of SHAPE (Social Sciences, Humanities & the Arts for People and the Economy). 
The RCA has so much to offer: from design interventions in healthcare, the design of low-carbon cities and transport; the traditional medium based fine art subjects of print, sculpture, and painting. It's an extraordinarily vibrant crucible of creativity with great colleagues and students. It's unbelievably stimulating with tremendous breadth, given the small scale of the institution.